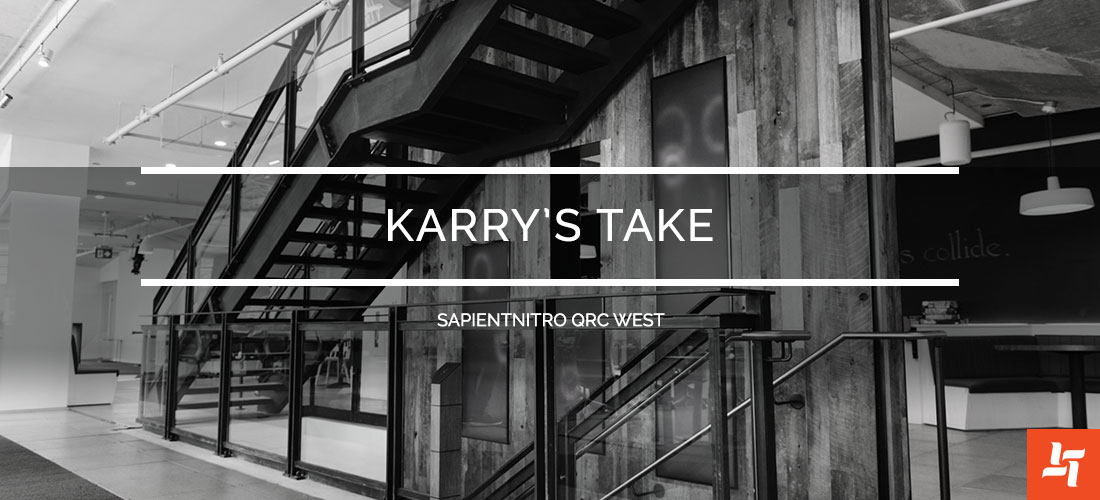 Karry's Take – SapientNitro QRC West
A great business deserves a great office. Give us a call to see how we can apply these awesome business designs to your space!
Get Started
In honour of our home office theme this month, we're changing up our Karry's Take! Instead of our usual take on inspiring home design, we're putting focus on the incredible workplace design becoming so trendy in Toronto.
There's no cons in this office feature, just awesome design and tons of inspiration!
The Space
SapientNitro's spot in the new QRC West building is a thing of beauty and shows off how competitive the workspace design craze is right now. Located at the Queen-Richmond Centre at Peter and Richmond, this office spans 2 and a half floors. It clocks in at a little under 60,000 sq. feet for about 325 employees.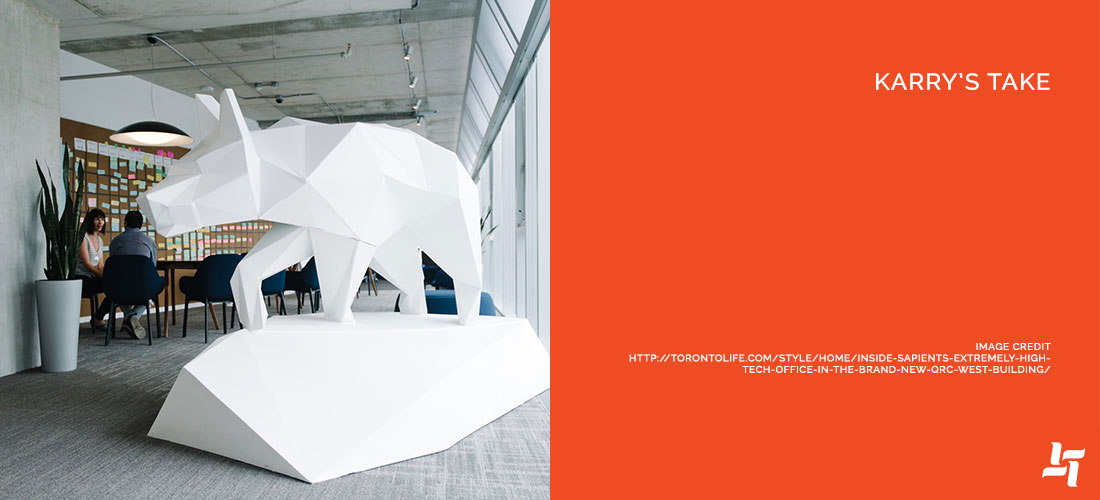 The Inspiration Takeaways
1. Work/Life Emphasis
Our favourite part of this building is the clear emphasis on a good work/life balance. More and more companies are catching on to the proven belief that employees who actually enjoy being at work are more productive. Who knew?
With a fully stocked bar, several comfy communal areas and an arcade, this is a job you look forward to going to every morning. With a renewed enthusiasm for work and several outlets to stave off the work-life burn out, this place nails it.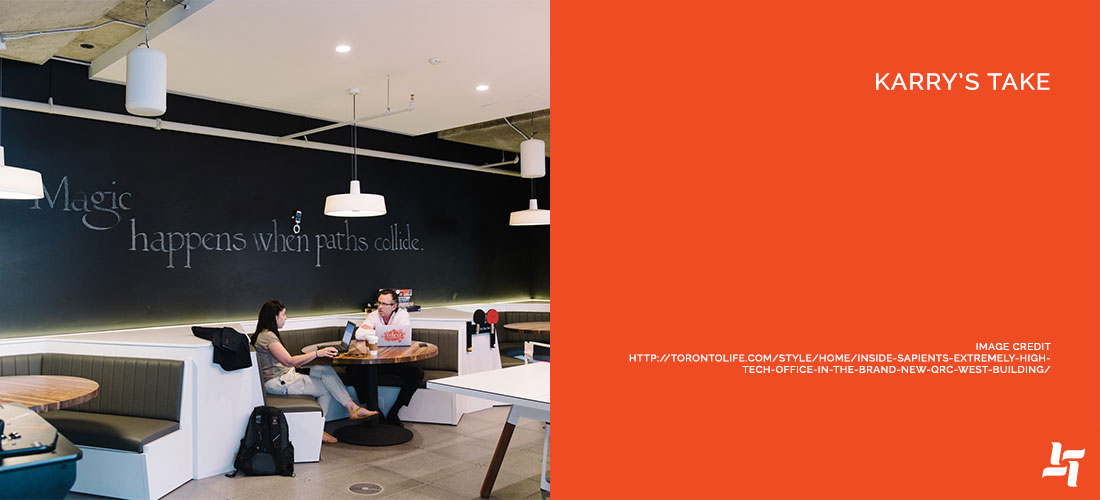 This is something to consider in your own home office too. You don't want distractions, but you do want an inviting space that won't make you miserable.
2. The View
If you're going to have an exceptional city office, a view is 100% necessary. This one has it in spades. Floor to ceiling windows make this whole place feel open and airy, while giving full view to an exceptional look at the Toronto skyline.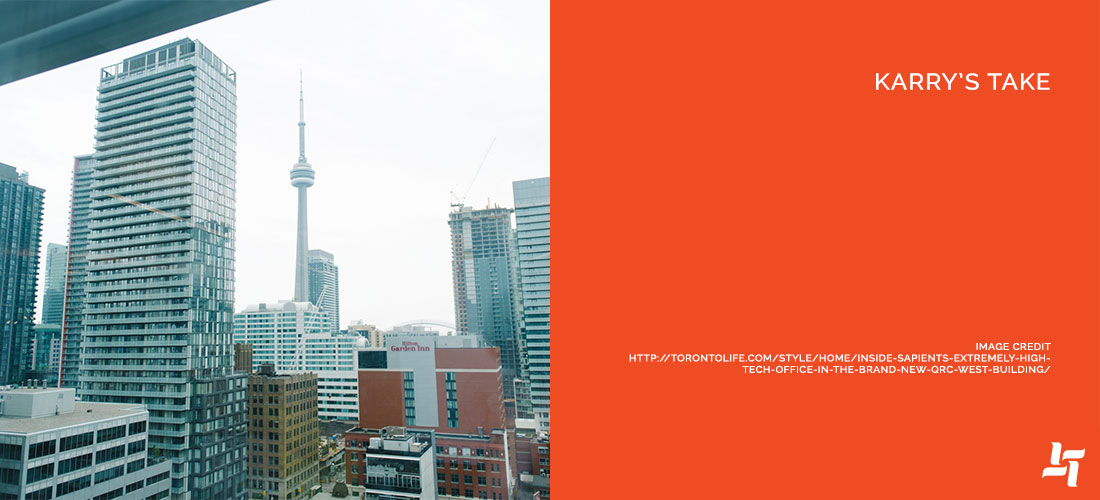 3. Futuristic Touches
Who doesn't want to work in an office that looks like a Mission: Impossible set? The décor and interior design of the SapientNitro unit is geared towards futuristic tech and all the fun that comes with it.
There's even a hallway of lasers – we bet your kids would love that at home!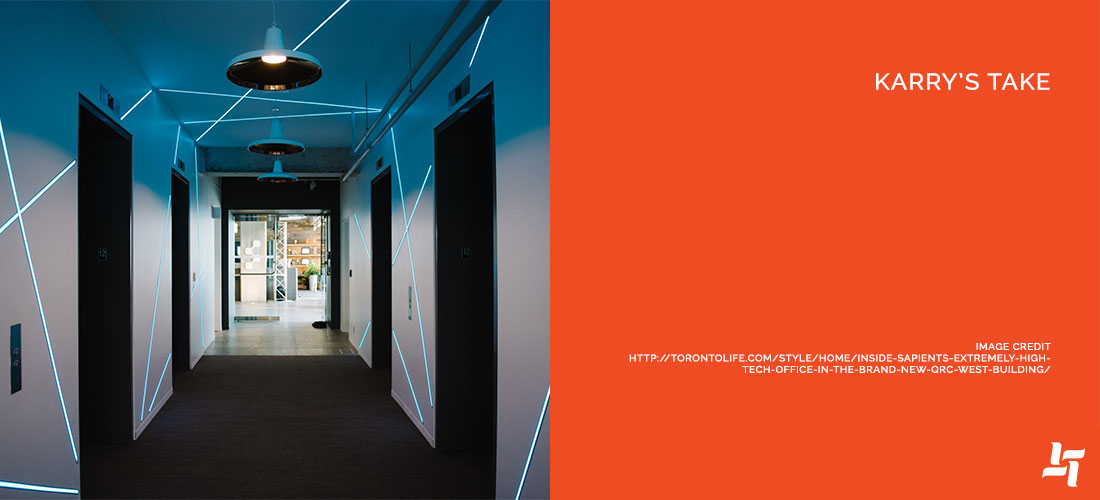 4. Meeting Room
Want to know the quickest way to destroy work motivation? Trap your employees in a confined, windowless meeting room for more than ten minutes. That made you deflate just thinking about it, didn't it?
This space defies that feeling completely, by creating meeting and brainstorming rooms that are open, bright and comfy. Meetings and brainstorming sessions can quickly get mentally frustrating, so the best way to keep a positive flow going is to create a welcoming environment.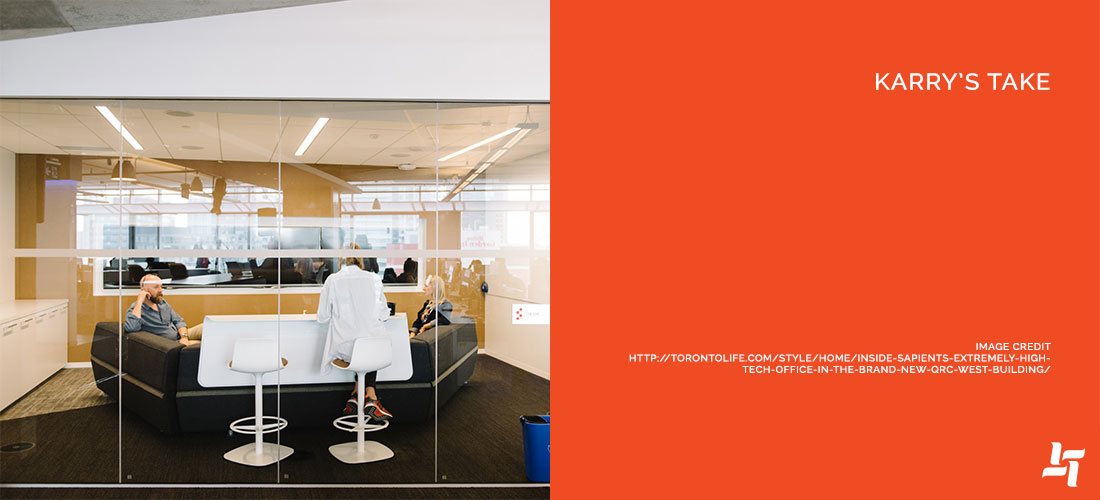 Note the glass walls, bright colours and windows. The décor itself inspires creativity, exactly as it should. Use these cues for your own office, or even in dining and living rooms. Inspire a great entertainment experience by creating a great environment.
5. Industrial Staircase
Industrial style décor is huge in the city currently, both in residential and commercial spaces. It's a seamless fit for a city office though and this staircase that connects the 2.5 levels is outstanding.
We love the black metal frames with glass railings. It's simple, trendy and eye-catching. Paired with the wood panelling and colourful light displays, this is something to consider for your home too!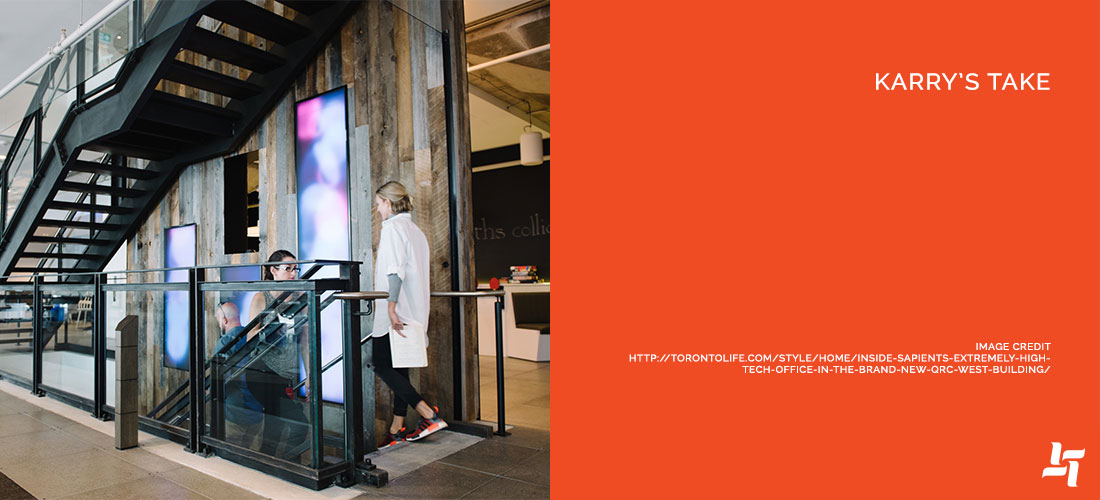 6. New Bullpen Style
Everyone knows that traditional bullpen style layout – it usually brings to mind chaos, disorganization and clatter. Not in this office!
The bullpen desks are sectioned into smaller stations, with only a set amount of people at each (less chaos). With sophisticated décor and plenty of leg room, there's no growing irritation from bumping into your co-worker every five seconds.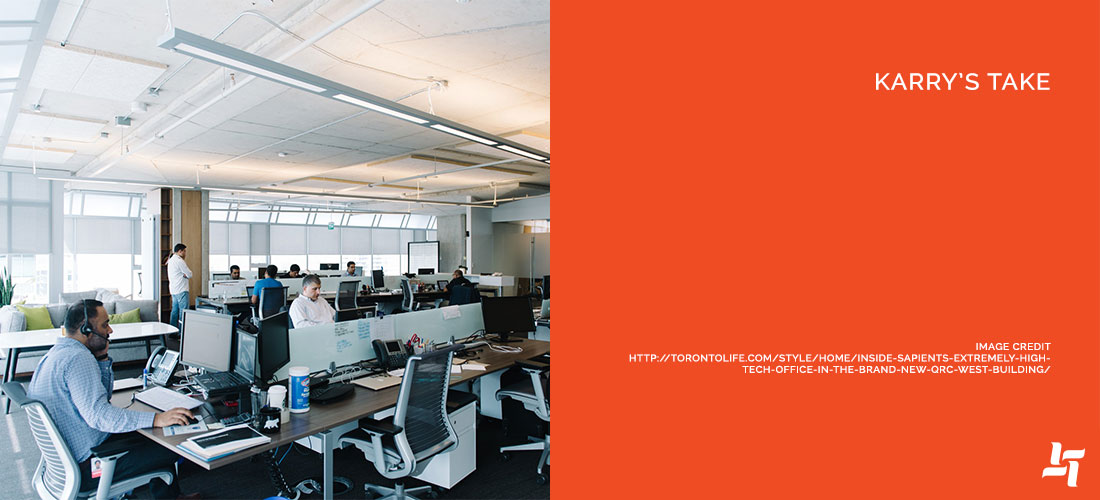 It's also great in that it has the perfect balance of privacy and connection to fellow employees. You can have your boundaries when you need be on the grind and collaborate easily with others when necessary.
7. Client Care
Businesses need to cater to their clients. This is true for consumer and B2B based companies alike. SapientNitro goes all the way to wow their clients and keep them coming back.
That bar we mentioned earlier? Clients are treated to top-notch bashes when they come by and employees are too. Maybe this will convince you to bite the bullet on that wet bar you were thinking of adding?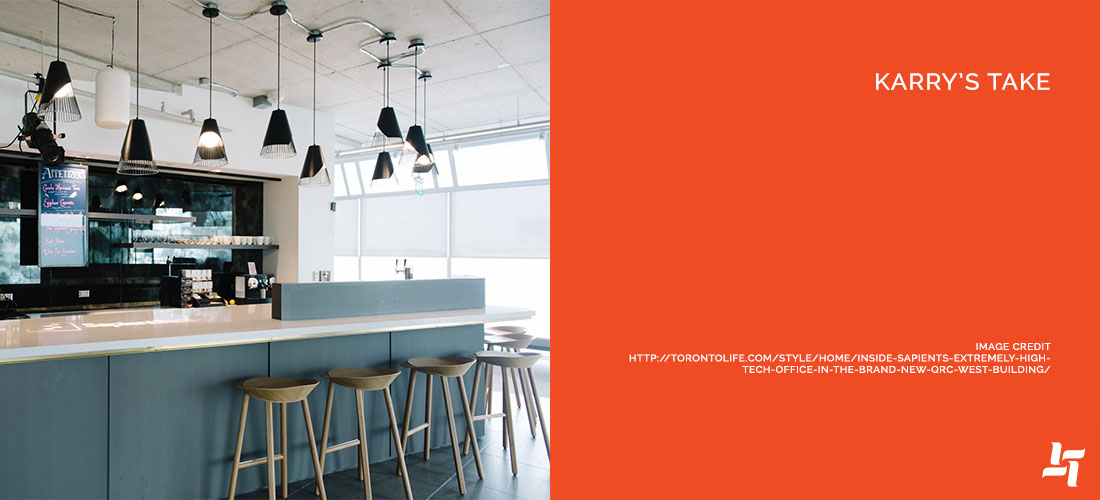 The Bottom Line
This office has it all – both design and function-wise. There are tons of areas dedicated to employees reaching their maximum productivity potential and even more to make the workspace a welcoming hangout. All the clients reap the benefits of a fully-loaded and positive company environment too.
The bottom line is all these design elements feed into the overall company attitude and perception, ultimately creating a top-notch agency that clients desire to work with.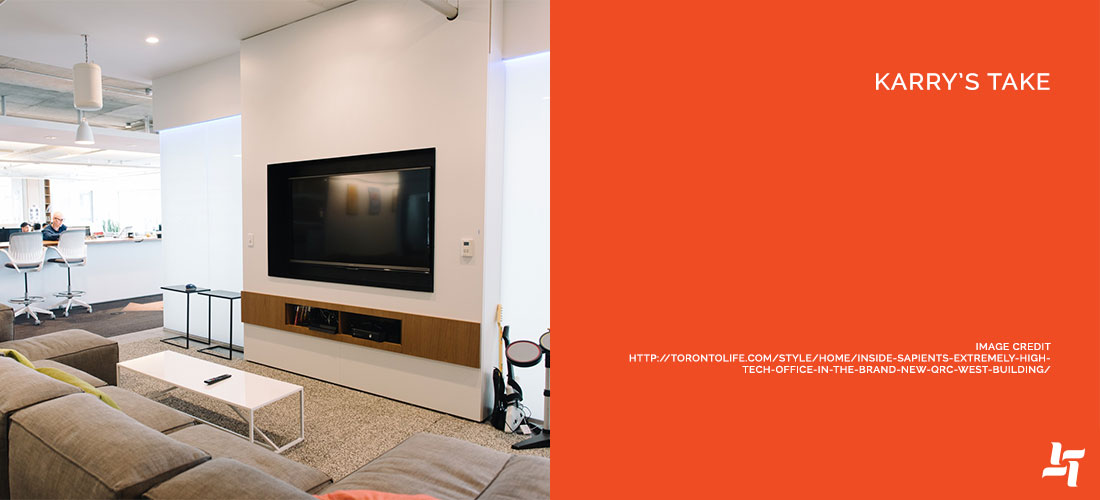 This same philosophy also applies to the home. Create a positive, inviting space, and the guests will come! Are you ready to create your master home or home office? Let's get started!