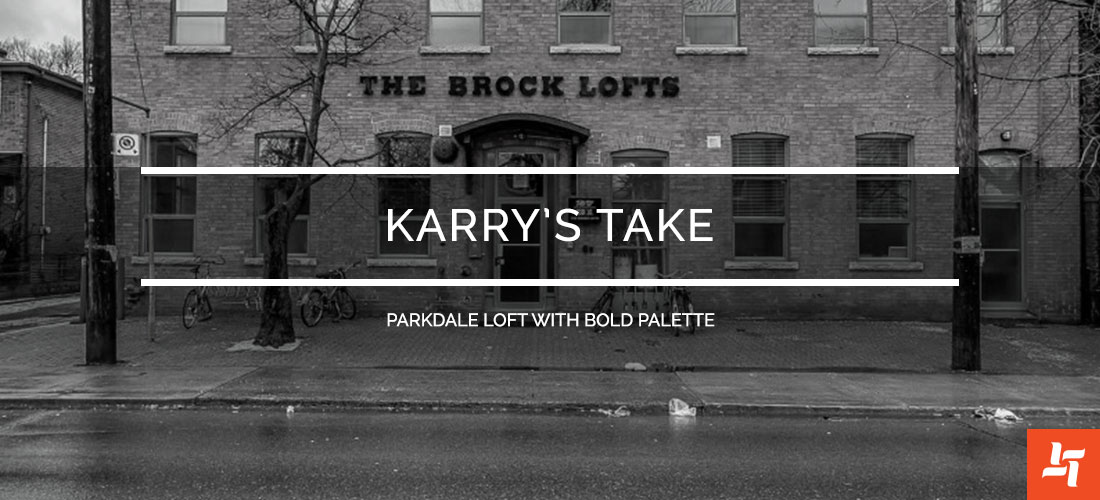 Karry's Take – Parkdale Loft with Bold Palette
We've found another gorgeous home design that's really caught our attention. June's Karry's Take pick was selected for its fearless design style.
The space
Located in the Parkdale area on Brock Avenue, this unit resides in a historic building. Originally an old phonograph factory, this place is an Industrial style fan's dream.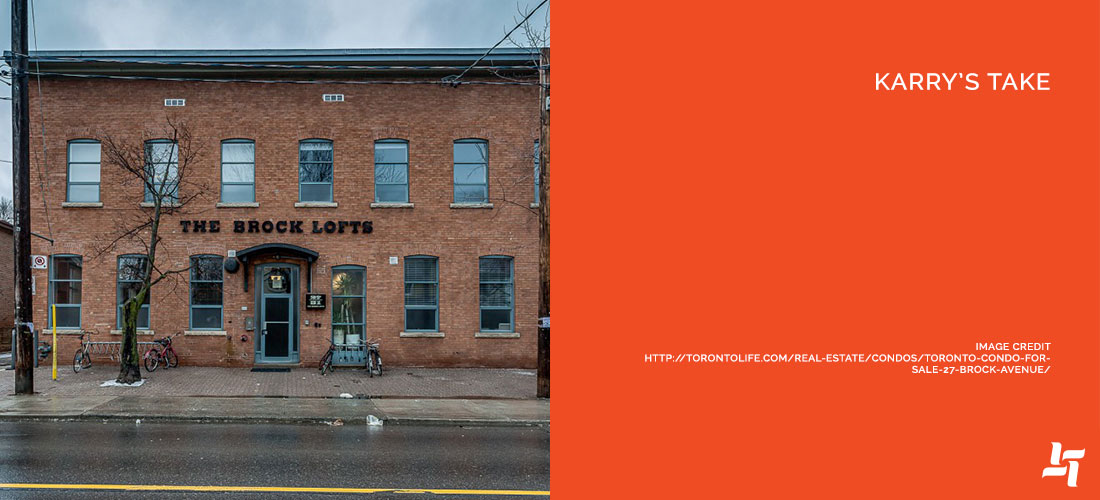 By Toronto standards, it's even relatively affordable at $539,000. The previous owner played up the industrial look, with neutral greys countered by one bright, bold colour pop that acts as the focal point for the unit.
What We Love
1. Fearless design – You have to be fearless to paint a brick wall fire-engine red. We love that they absolutely went for it, and made it impossible to miss that feature wall.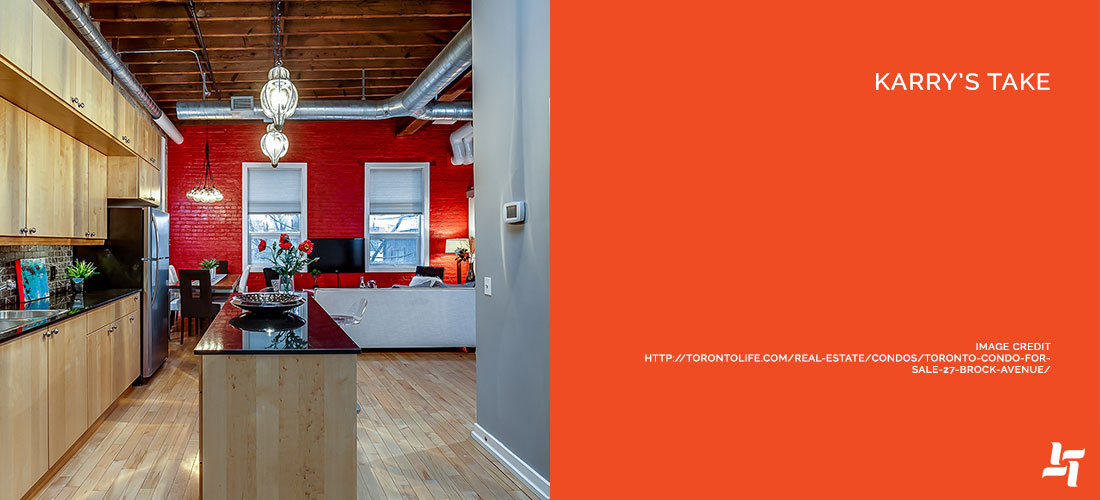 2. Kitchen – The kitchen design is gorgeous and the cabinets are probably our favourite piece. Simple and natural looking, these kind of cabinets can be tweaked for any style and design – from modern to traditional.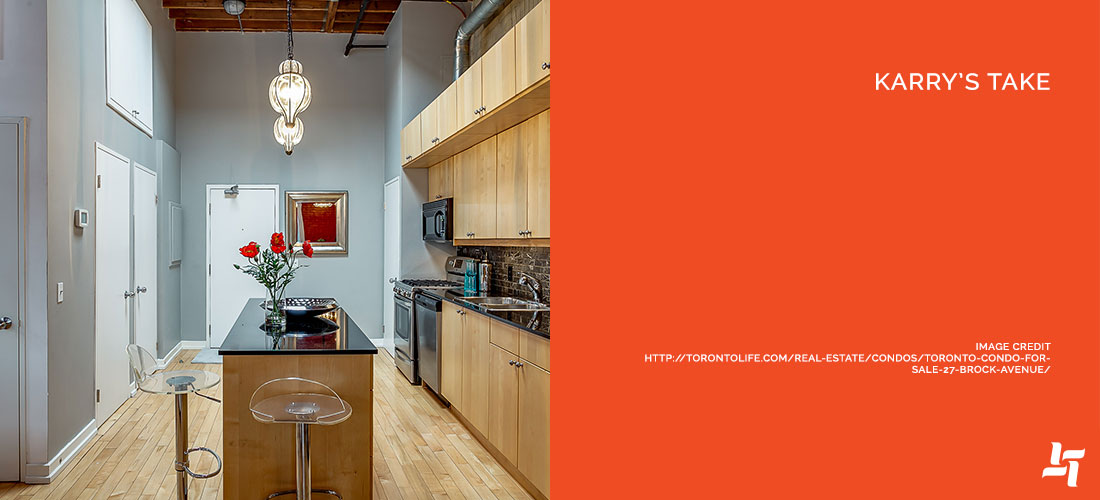 3. Exposed brick – You can't go wrong with exposed brick, but we love how this unit uses it. You get a natural beige brick, white painted brick and then the bright, bold red mentioned previously. This unit single-handedly shows you the whole range of possibilities available with exposed brick walls.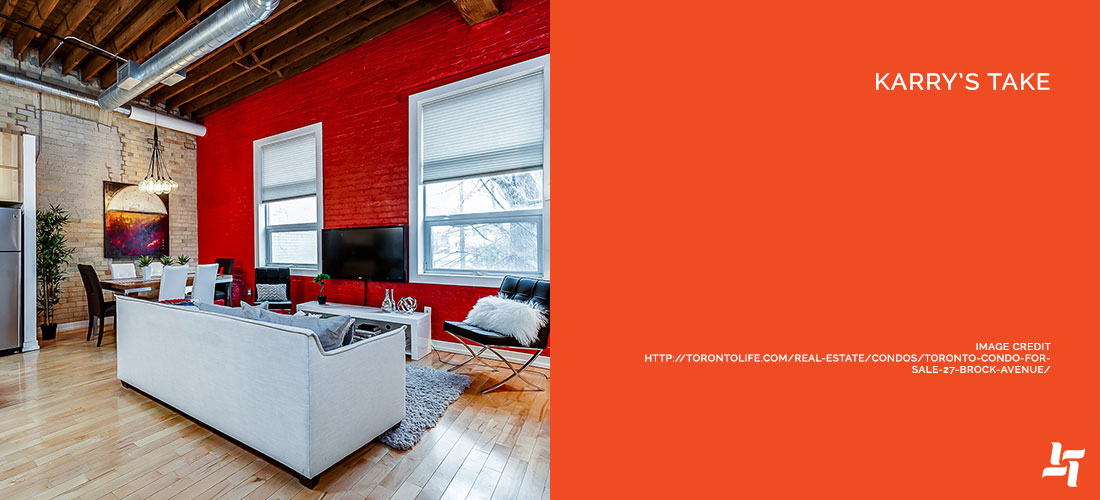 4. Use of space – This unit is very open concept, and is really just one open studio space essentially. However, it's cleverly divided and allocated to feel spacious, but still cozy. The cleverest addition is the use of vertical space – an extra bedroom or lounge is created with a loft above the existing bedrooms.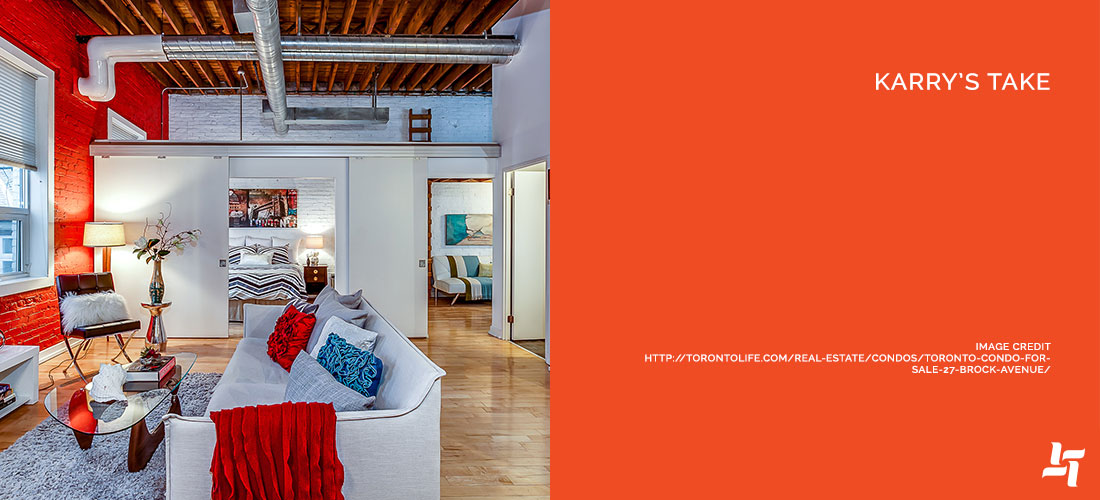 5. Shower – The shower makes great use of the industrial style throughout the apartment. Dark, grey toned tiles with an uneven finish make the shower wall look like a metal sliding door so common in studios. This is such a creative touch!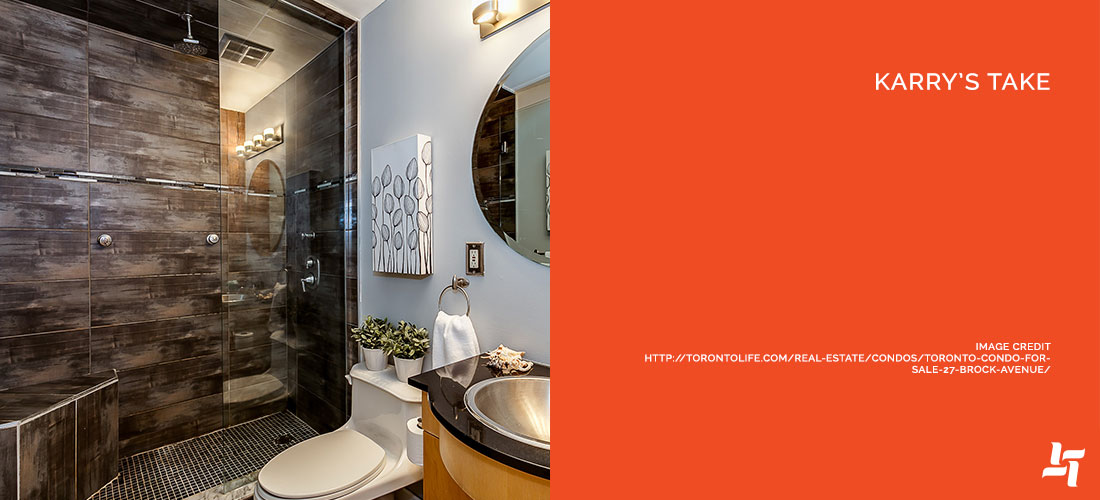 What'd We'd Change
1. Add powder room – This addition is unfortunately an unlikely possibility given the limited space to work with in the apartment. Having said that, an addition bathroom in the unit could increase its value a great deal. If we had the space, we'd add a powder room near the living area.
2. Kitchen backsplash – While we love the kitchen as a whole, the backsplash is a little too dark, particularly with the black counters. In an apartment that is very industrial and on the darker side already, we'd take that space as an opportunity to brighten things up a bit. White subway tile with grey grout is an Industrial staple and looks great with any cabinetry!
3. Outdoor space – Another option that may be out of our hands, given that this is a second story apartment. Balcony space would be a wonderful addition to this unit though.
4. Storage – The difficulty with minimalist interior designs is the issue with adding enough storage – too much can start looking cluttered and negate the style's purpose. This unit seems to be a little limited with its storage, so we'd add a small built-in unit in the main living area or office space.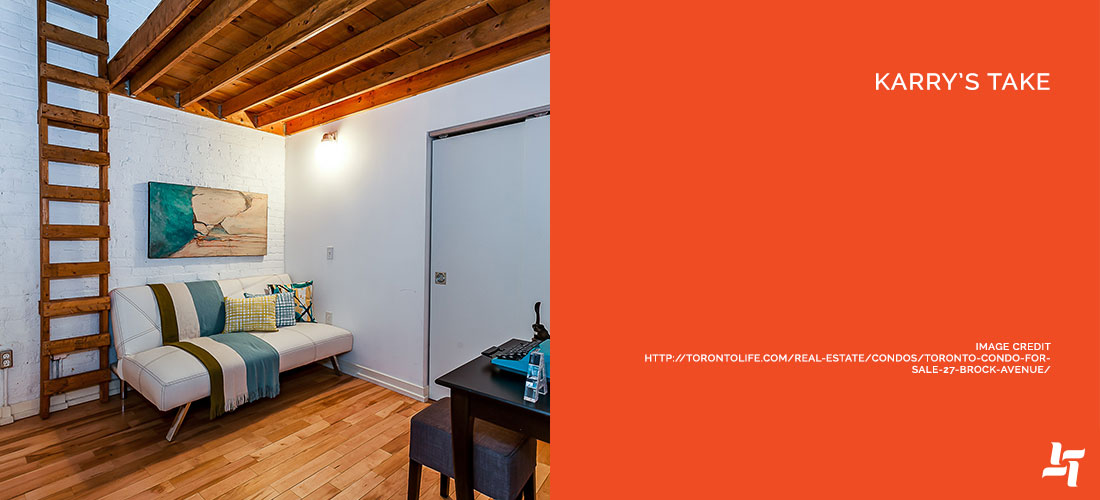 5. Stick with colour theme – We'd keep the colour scheme consistent throughout the apartment. While the pop of red against neutral greys is the dominant colour palette, the office and loft deviate towards whites and blues. We'd keep things a little brighter there still, but keep with the red tones by using either coral or peach.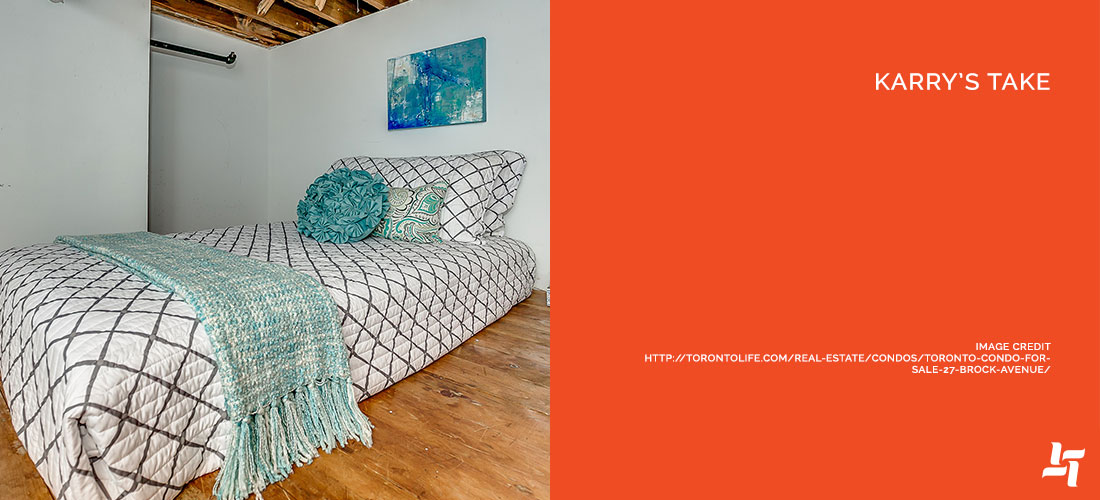 The Bottom Line
This is exactly what the Industrial style is all about and this unit does it perfectly. Industrial style influences a lot of interior design but people don't often fully commit to it, so it's refreshing to see it truly embraced here. We can't say enough how fun big colour pops are to paint too!
Are you bold enough to bring something like this into your home? Take the leap with us and let's brighten up your space. We're currently taking on new projects for the end summer, so call us soon!
If you love this style, you might also like: