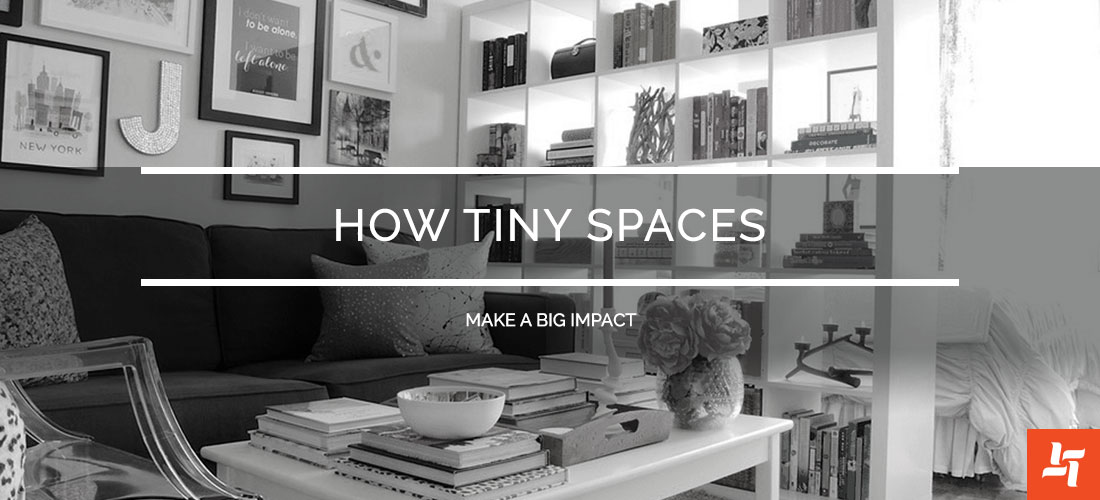 How Tiny Spaces make a Big Impact
Looking to make the most of your limited square-footage? Here are a few ideas to make a big impact with a tiny space!
Get Started
Whoever coined the phrase "good things come in small packages" knew what they were talking about! Modern living is requiring less and less square footage as it gains functionality. In the past, unnecessarily large homes have been used as a symbol of status. Luckily, real estate trends have shifted to become a lot more practical and a lot less obnoxious. The notion that excess room is synonymous with luxury is becoming increasingly outdated. The popularity of the proverbial "mansion" is dwindling while compact lofts and row-houses are gaining major traction. This paradigm could likely be attributed to the advancement of design as it pertains storage and efficiency. Excess space means excess housework, excess building costs and, subsequently, excess utility costs. You could easily direct that money and energy into making the best of a space that facilitates your needs without going overboard. This mentality doesn't only apply to your living space. You can easily minimalize garages, shops, and sheds using the same logic. Here are a few tips to help make a huge impact in a small space.
Think Vertically
Whether you're building a new space or trying to maximize the potential of an existing one, it's important to explore volume as opposed to mere length and depth. People generally don't take advantage of the prime real estate that is above them. By utilizing the area above you, you can eliminate the need for excess space around you.
From an interior design perspective, explore the lengths of your storage solutions. Rather than having two adjacent cabinets, why not customize one so that it extends as high as humanly possible. By doing so, you'll acquire the same amount of stow-away capacity by utilizing space that wouldn't otherwise be occupied. All the while you would be avoiding taking over the more valuable horizontal space. Within the confines of a closet or pantry, every square inch between the ceiling and floor should serve a functional purpose! Every item stored above you is one less item beside you — which you should strive to avoid in a minimalistic layout.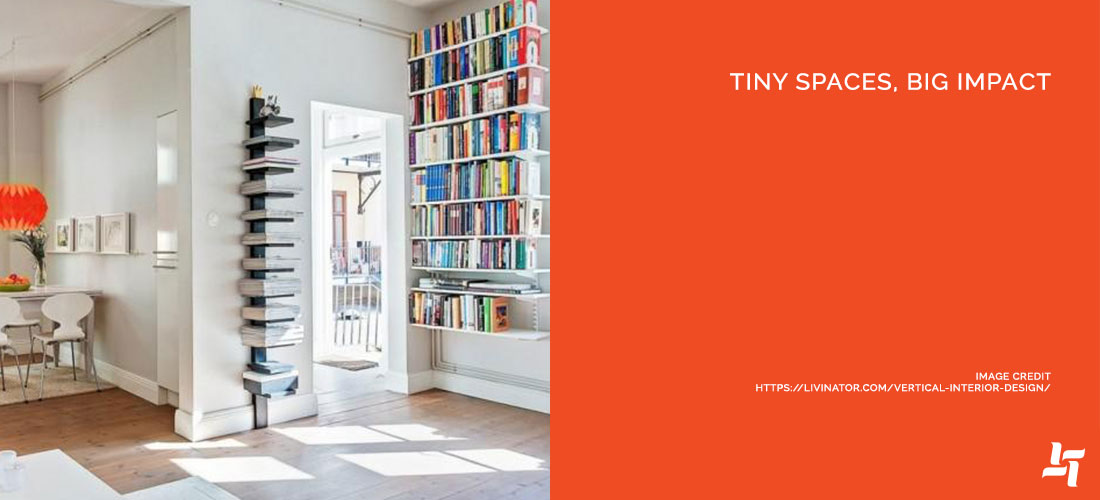 This idea is relevant to this month's theme of Cabana's, Sheds and Garages. In a storage-forward building of this nature, lofts are essential and very easy to construct. Keep excess boxes out of sight and out of mind! Similar to the interior of a home, why not fill space that would otherwise go unoccupied?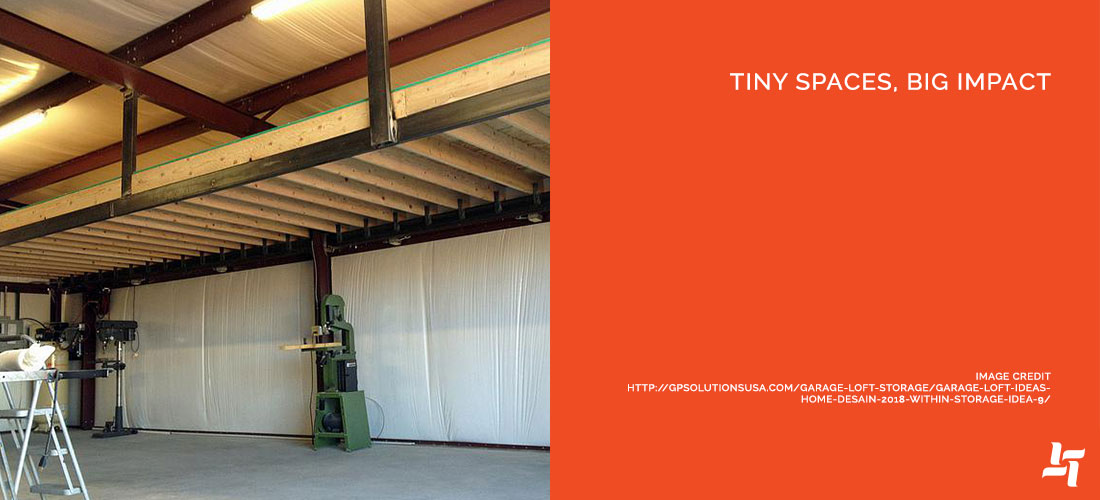 Built-Ins
By blurring the divide between walls and furnishings you can majorly capitalize on your allotted space. Feature walls, custom wall units, and murphy beds are sleek and innovative concepts that can expand a room substantially. By suspending fireplaces, tv's and cabinets and integrating them into your architecture, you don't only open up your home, but you create an attractive feature wall that's as eye-catching as it is space-saving.
The murphy bed is a godsend when it comes to functionality within a restricted bedroom. After all, a bed only serves a purpose when it's time to sleep. Why not hide it in the wall the remainder of the time to expand on the area during productive hours? If you can transform the function of a room in a matter of seconds, it eliminates the need for more rooms. With a murphy bed, a bedroom can become an office in one swift motion.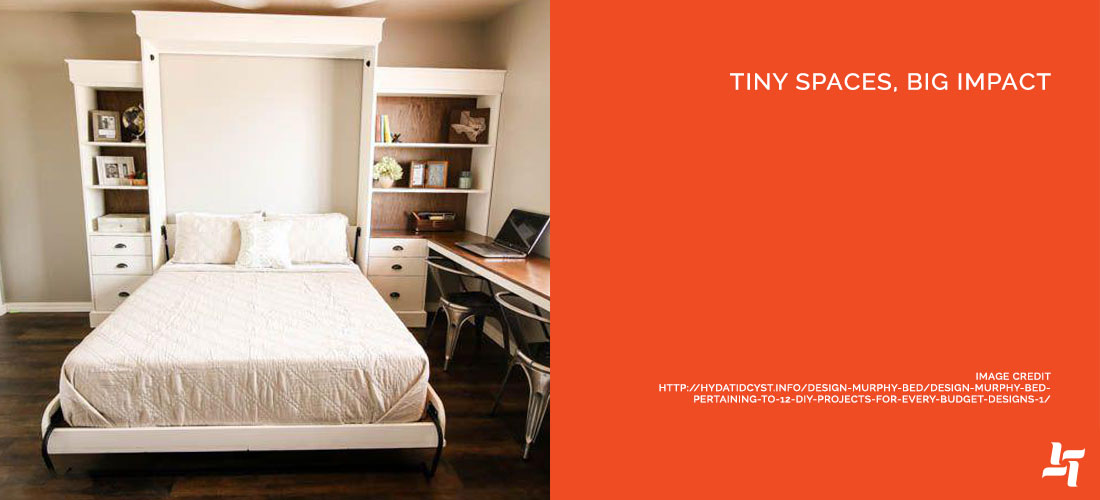 Sectioning off Space
In an open concept living situation, you can assign a purpose to a designated area without the guidance of walls. One room can wear many hats! You just need to manipulate the eye so that it can easily identify the partitions (literal or figurative) within an open space. You can do this by grouping furniture, utilizing colour schemes, or using lights or area rugs as perimeters.
To elaborate, in a studio apartment you can separate the office space from the bedroom by grouping items together. If a desk, an office chair, and a filing cabinet are in close proximity at one end of the room, and a bed, side table, and reading lamp have the same dynamic at the other end of the room, the eye will quickly distinguish the separate spaces and their given functions.
If you want to divide your space in a more literal sense, why not use it as a storage opportunity? Use a bookshelf as a partition. In a small space, every addition should serve a practical purpose!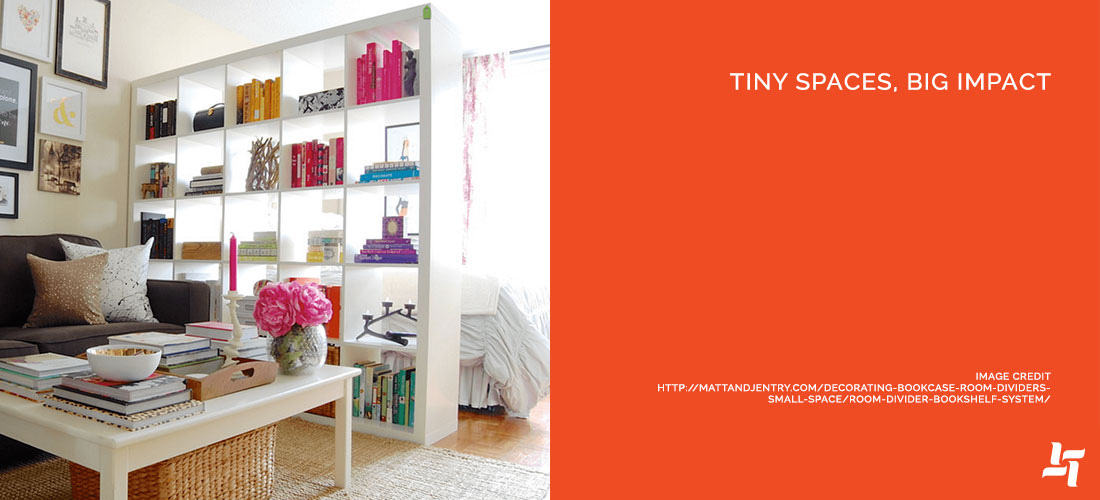 Furnish Wisely
Just because you're downsizing doesn't mean you have to sleep on a twin bed meant for a twelve-year-old. Contrary to popular belief, small spaces don't require small furnishings. In fact, you can make a room feel much grander by using just a few large-scale pieces as opposed to filling the space with a hodgepodge of pint-sized items. Less is more when you're decorating a restricted area — literally!
When shopping for staple items, keep an eye out for pieces with multiple functions. Buy a bed with storage so that the need for a dresser becomes obsolete! Buy an ottoman with a hollow interior so that you don't need to purchase a linen cabinet! You can save a ton of space and a ton of cash by making each piece count!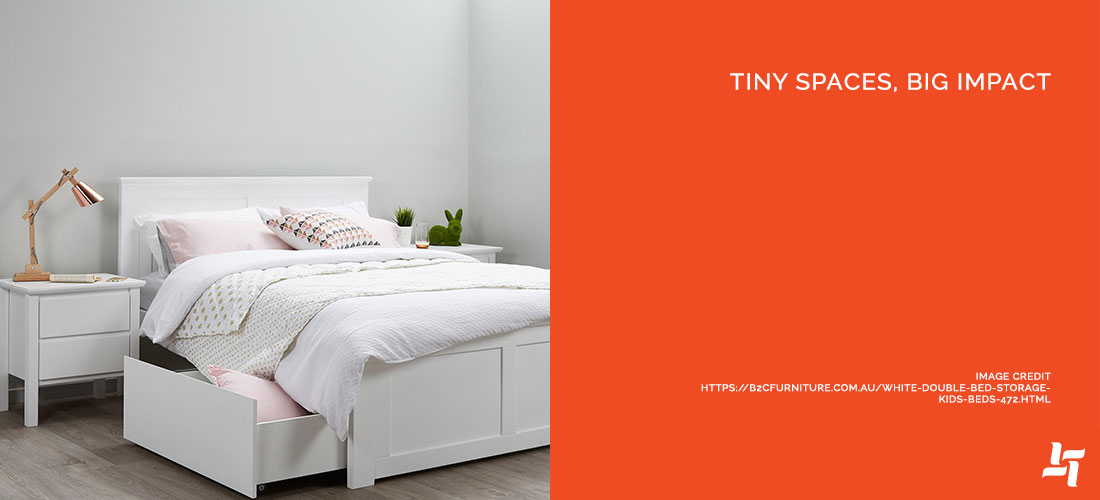 Use of Colour
There are many opposing opinions regarding colour schemes in a small space. The most common misconception is that you should avoid dark colours all together while trying to expand on a limited area. Although it is true that light colours open up the space more, there are ways around using darks without making things condensed. You could try using dark colours on a singular accent wall while painting the remainder of the room in a light hue. The contrast can actually add to the expansive illusion of the space. Another tactic is to use light trimming in a darkly painted room to break up the dark colour. An important variable to consider while choosing your colour scheme is how well lit the space is naturally. If you have multiple/large windows, opening up the space is a much easier task and the paint colour is less of a game-changer.
We expand on this idea further in this months "Karry Knows". Give it a read to find out more!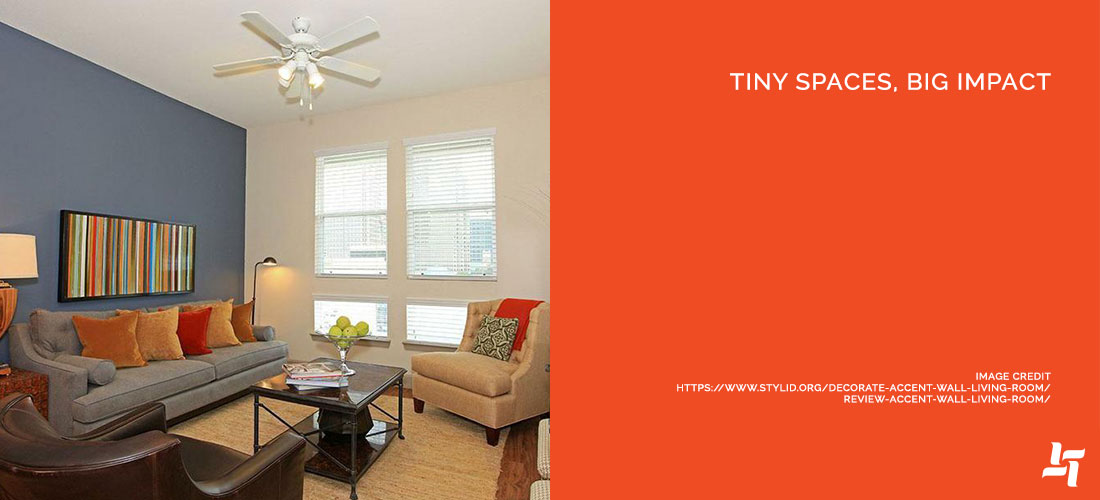 These ideas just scratch the surface of the impact you can make in a small space. For help implementing some of these ideas and many more give us a call!