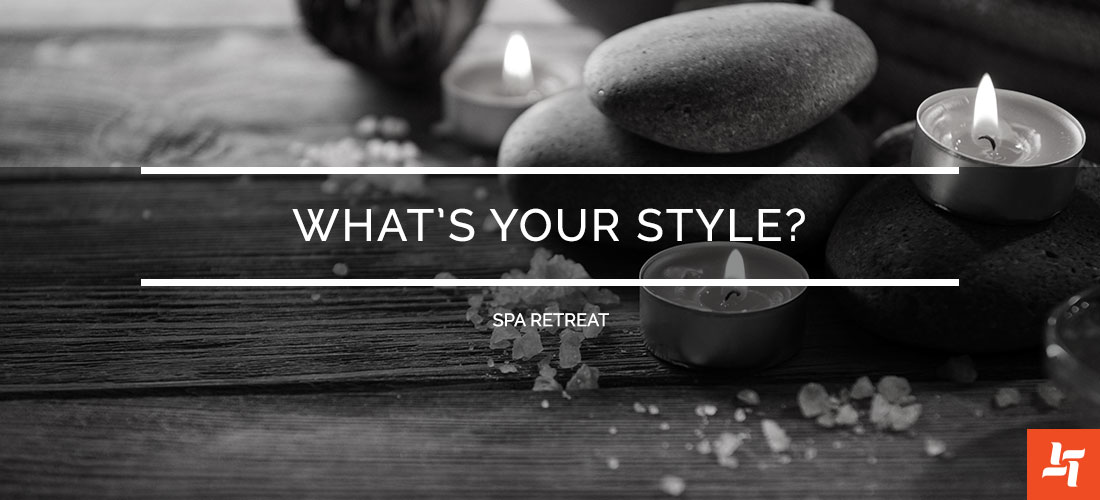 What's Your Style? – Spa Retreat
Overview

When Winter hits and you can't vacation every day, a luxury spa retreat in your own home is the best solution.

Layout

When planning your bathroom layout, it's easier to try and work with the existing plumbing. However, if you have the chance to change things up, an open-concept feel is best for a spa feel. The bigger the better, but so long as the bathroom doesn't feel crowded or segmented, you can pull off a home oasis.

The shower and vanity should be given the most space and attention. Give your glass shower as much square footage as you can realistically give it and make sure there is still room for a spacious vanity area.
Materials

In a spa-like bathroom, you will use similar materials to any bathroom renovation, by the very nature of the space. Tile is always a given for waterproofing and easy cleaning.

Granite countertops, but especially marble, are particularly popular. Natural finish wood, for accent panel walls, are also becoming a new trend in spa bathrooms.
Surfaces

With the spa style in mind, you'll want to pay extra focus on sleek, glossy, non-porous surfaces. Most spas cater to this kind of surface for the ease of keeping the environment clean and hygienic. Through the years they've perfected this practicality into a beautiful décor style as well, and that's what you're aiming for in your new bathroom.

You can still experiment with textures though, just to a lesser degree. Try a stone accent wall or plaster designs.
Colours

A spa retreat bathroom takes many cues from the contemporary style, so you'll want to keep your colours neutral. Grey, beige, white, tope and varying tones of those colours, are your starting point, with furniture, trim and cabinetry usually being dark or white coloured wood.

The most colour usually comes from accents like towels, art, and flowers. For these pieces, think of ocean-like colours such as blues and greens.
Furniture/Appliances/Hardware

The primary pieces to consider are the bathtub, shower, toilet and vanity. Bathtubs are almost always a modern, white ceramic piece, though standalone and built-in tubs are equally popular. Built-in bathtubs become the usual choice when considering jets or whirlpool features.

For fixtures, chrome and brush nickel are the dominant choices, as with most bathrooms these days, but dark metal fixtures are growing in popularity as well. In this regard, rain head showers and extra shower sprays are a big consideration, as they take the spa bathroom beyond a look and into a reality.

Finally, vanities in spa bathrooms are often minimal in their style, with open shelving. Picture a dark finished vanity, with crisp, white towels displayed on the lower shelves. This calls to mind the look of a professional spa.
Décor/Finishing

Don't overdue the décor, as minimalism is the key to relaxation. A chaotic space makes for a chaotic feel, and that is far from a spa oasis. A single statement piece of art or black and white photography, a couple flower pots (think white orchids or bamboo) and minor colours on towels is all you really need in the average space.

If you're lucky enough to have an expansive bathroom, you can go a step further and include some type of water or fountain feature, but make sure there is always room to move around.
This is the month to treat yourself and finally give yourself that bathroom you've always wanted. Give us a call to get a personalized (and free!) consultation with ideas specifically for your home. It's time you finally got your spa retreat at home!