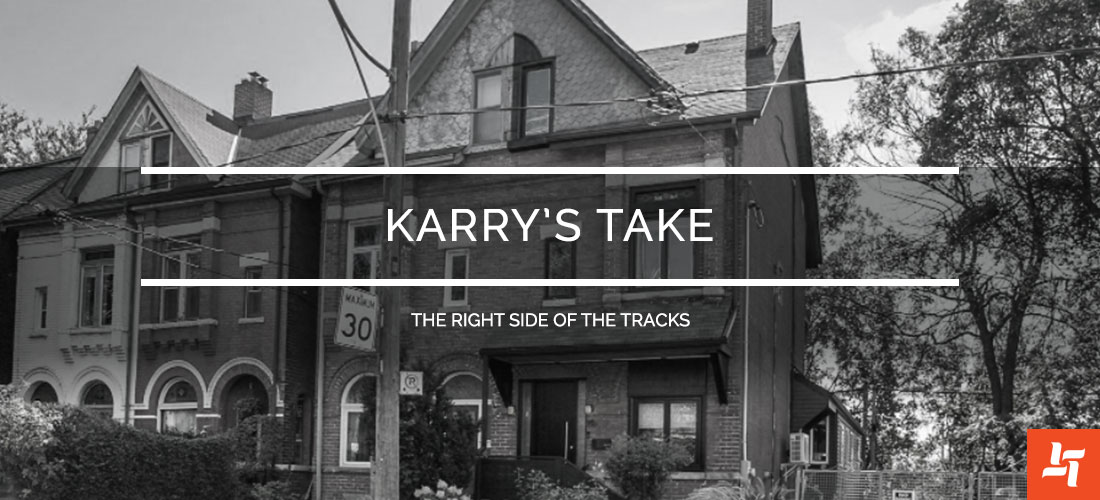 Karry's Take – The Right Side of the Tracks
Looking to add a modern edge to your classic home? Get some ideas from this property then call us for more!
Get Started
Have you ever found a clothing item in a retail outlet that had a minor discolouration or a missing button? Have you ever been overcome with joy after finding said item because this minor flaw could potentially result in a discount? Imagine this exact scenario on a much grander scale: in Toronto's housing market. One might say they hit the jackpot if they found a nearly perfect home with a substantially reduced asking price due to an invariable flaw. Alternatively, one might dub said flaw as a "game-changer" that writes-off the home as undesirable — even given it's discounted rate. It's a completely circumstantial situation that's dependant on how sensitive the potential buyers are to the area of concern.
In this case, the buyers were clearly uninhibited when they purchased this stunning Parkdale Semi for $200 thousand over the extremely low asking price of 1 million. Compared to similar homes in this area, even the inflated sale price could be considered a deal…So what's the catch? In spite of the increasing popularity of Parkdale's housing sphere, this particular home has the unfortunate misgiving of being situated directly above the Lakeshore GO Line — one of the busiest TTC stops in the city. This is a definite "con" that could only be swayed by the many obvious "pro's" of this particular home.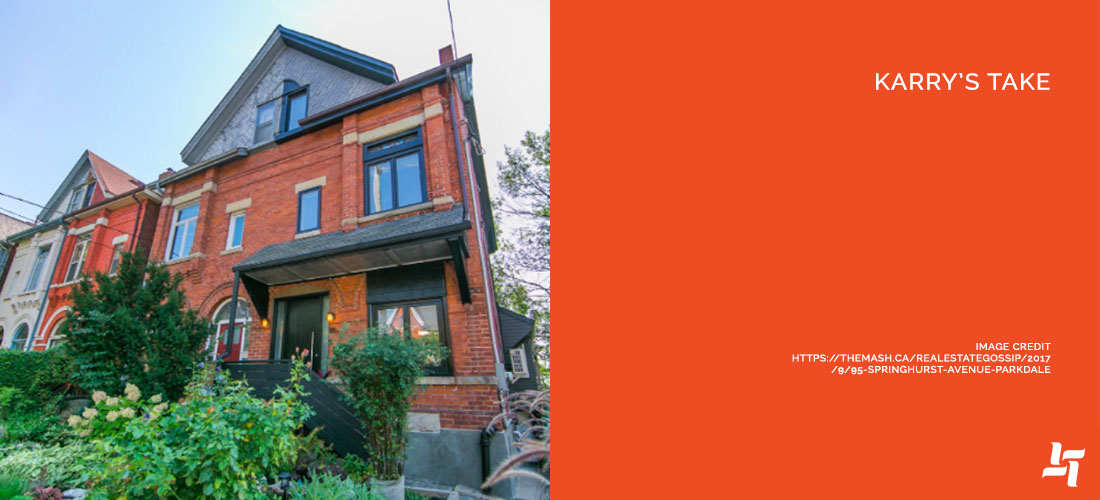 What we Love (The Pros!):
Spacious Design:
With 4 bedrooms, 3 bathrooms and multiple levels, this place is far from cramped — especially given its close proximity to Toronto's downtown core. An added bonus of this space is that it's been renovated to expand on its already adequate square footage. It does so with a smart design and an open concept layout. The home is opened up even further by incorporating light colour schemes mixed with accent walls and numerous built-ins that seamlessly marry design with functionality.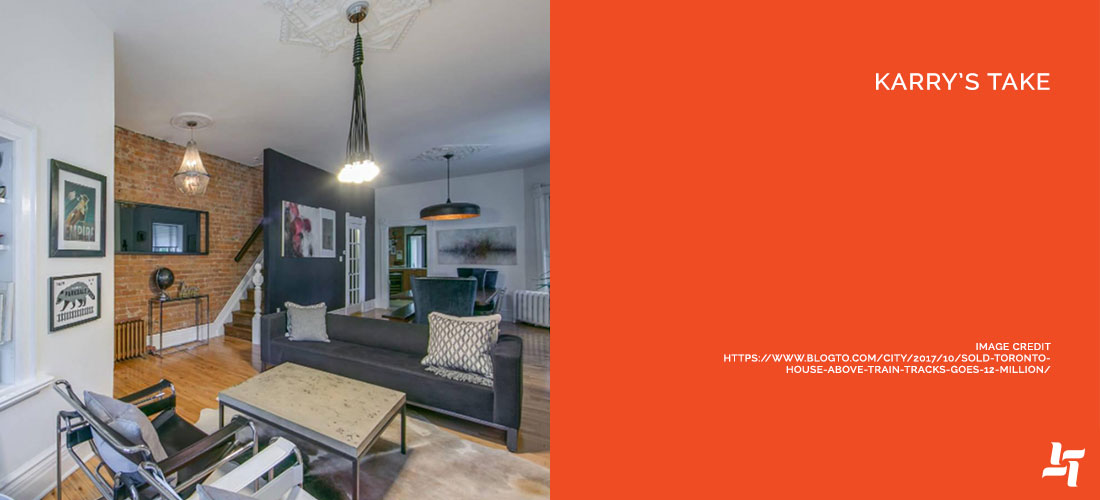 Curb Appeal
It's a win-win: a timeless brick exterior paired with a newly-renovated interior. What could be better? Heritage-style homes are all of the rage these days and Parkdale is filled with the character of homes like this one. The sleek black trimming gives a subtle modern edge to the untouched brick. The cherry on top of the cake is the garden in front of the entrance as well as the towering trees peeking out from the backyard. This home is incredibly inviting and oozing with charm.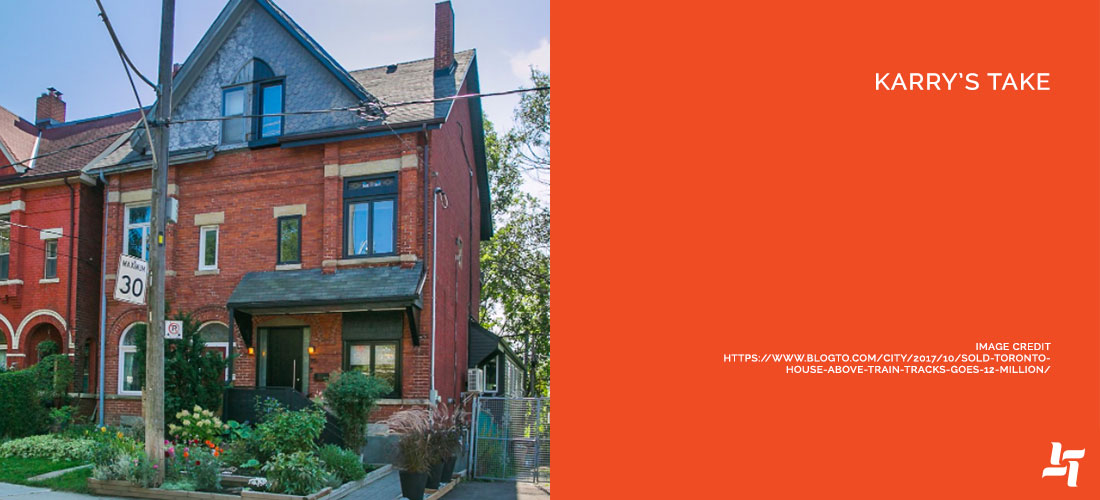 Decorative Accents
Whoever restored this home clearly has a keen eye for design. The interior of this home is incredibly charming. It's extremely sleek and modern while maintaining subtle nods to the heritage aspect of the building. There are many exposed brick feature walls, exposed wood ceiling beams, and beautiful ceiling tiles. All the while the appliances and lighting fixtures are incredibly chic and current. The overall pallet of the home is white and minimalistic to give these clever accents the spotlight they deserve!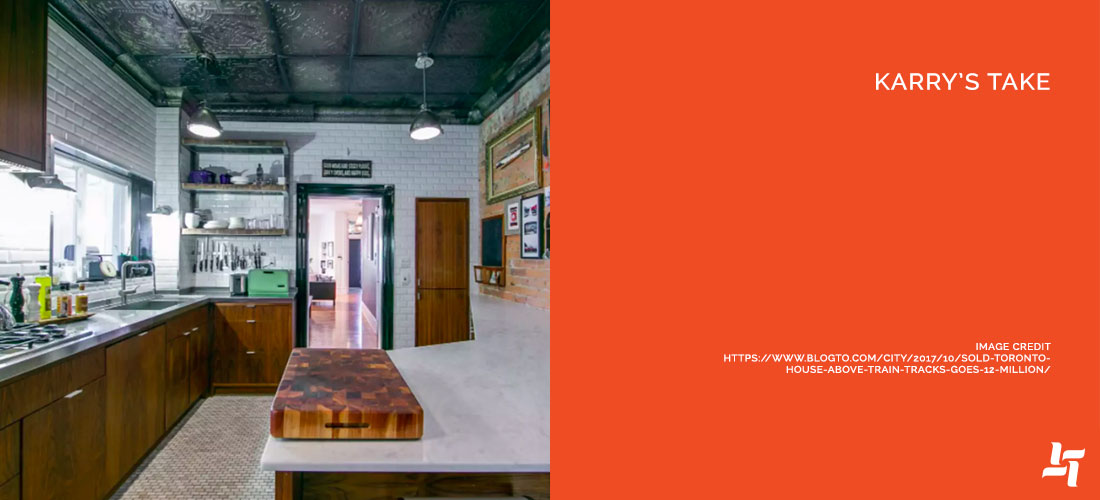 Backyard Oasis:
The new owners of this property best be taking full advantage of their little summer paradise over the next few months. Behind the home is a large raised patio space customized with ample seating and surrounded by endless greenery. This hidden terrace will make you forget that you're not at the cottage (until you hear the rumblings of the GO train below you).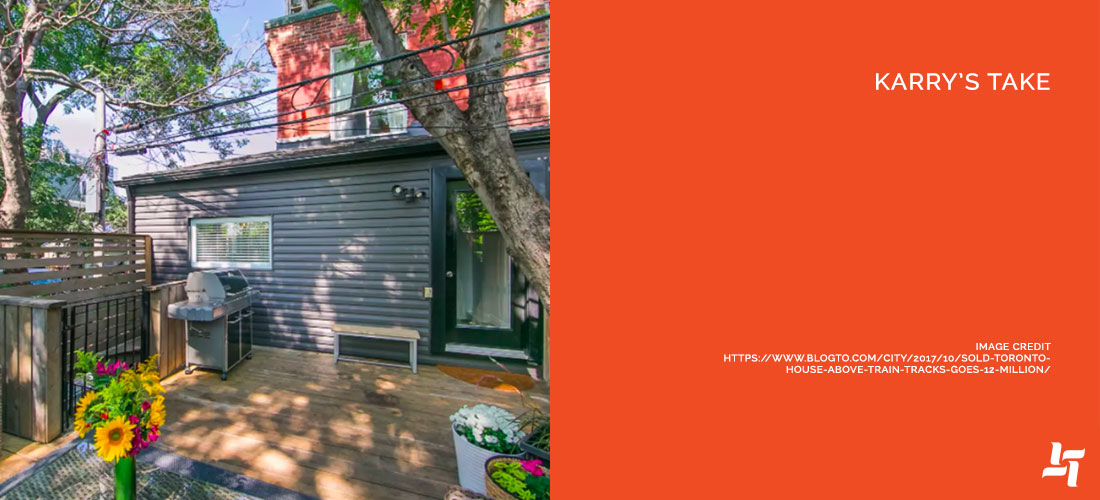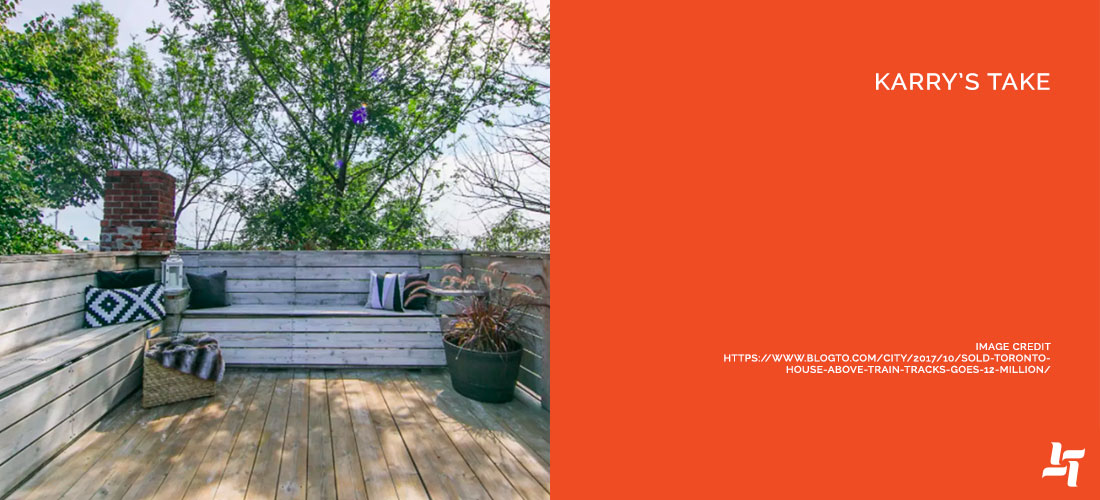 The Bottom Line:
If you can get past the obvious foibles of living directly above a transit line, this home is a real estate godsend! At its incredibly low asking price, the new owners are probably writing thank-you letters to the TTC! We have a feeling that there's few regrets about this purchase!