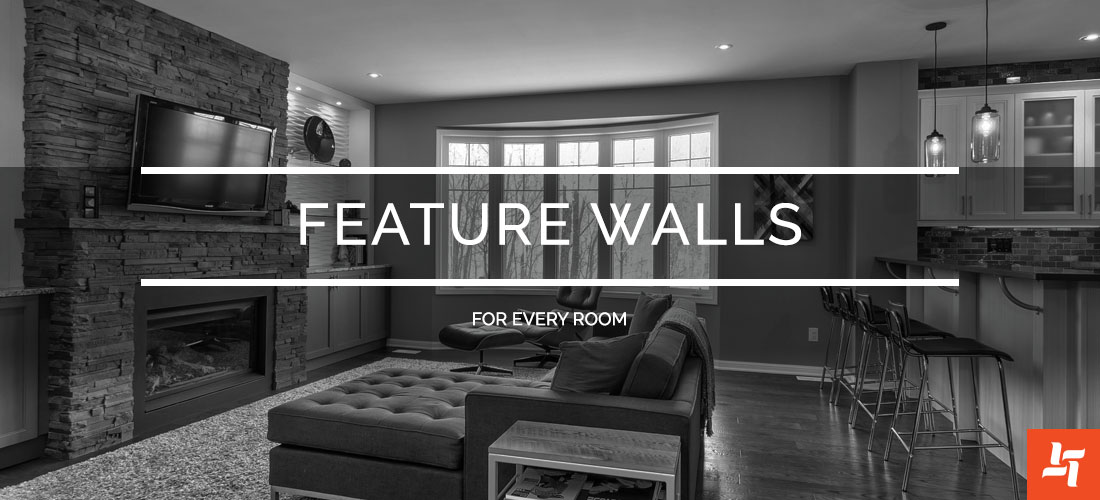 Feature Walls for Every Room
Feature the Bedroom
The bedroom is one of the common places to find a feature or accent wall in current home renovations. The trend started as simple as a bold colour on a single wall to contrast with the rest of the room but has since grown in detail and creativity.

One of our favourite trends is the pallet wall. Worn and weathered wood panels are being used on a single wall in lieu of a headboard. The entire wall behind the bed becomes the centerpiece of the room.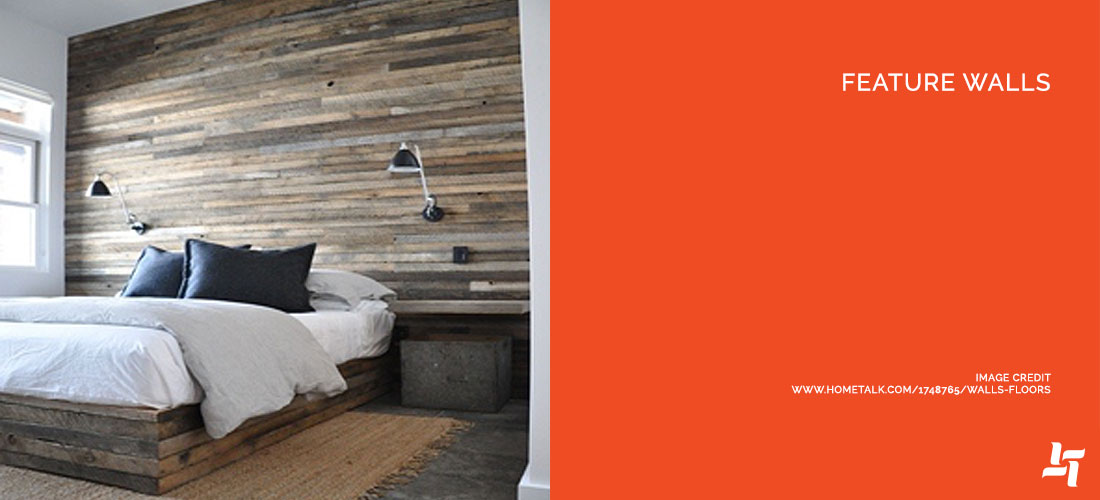 The beauty of this feature is that materials are developing in such detail these days that you don't even need to invest the money in putting up real wood; this is great for those wanting to avoid the rough texture as well. There are magnificent wallpaper designs, and peel and stick plywood that achieve the same indistinguishable result.

It doesn't stop at pallet walls though. Stonework and backsplashes, so prevalent in kitchens, are moving into the bedroom too. Texture is a gorgeous addition to bedroom walls, often limited to simple paint colour in the past.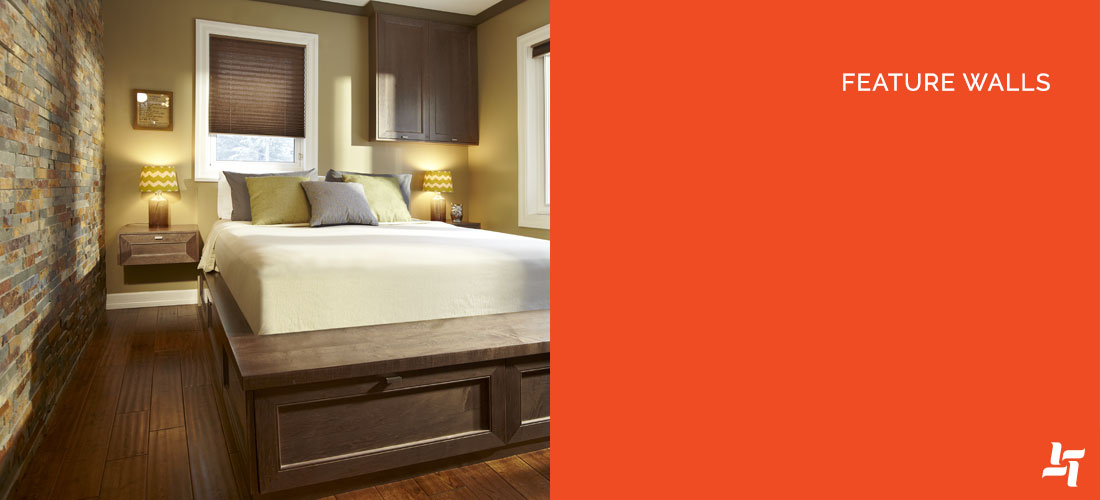 Feature the Kitchen
By far, the biggest trend in kitchen feature walls is the introduction of a chalkboard wall. This task can easily become a DIY project. Chalkboard paint can be purchased at any hardware or paint store you would normally purchase from and usually costs about $20 a can.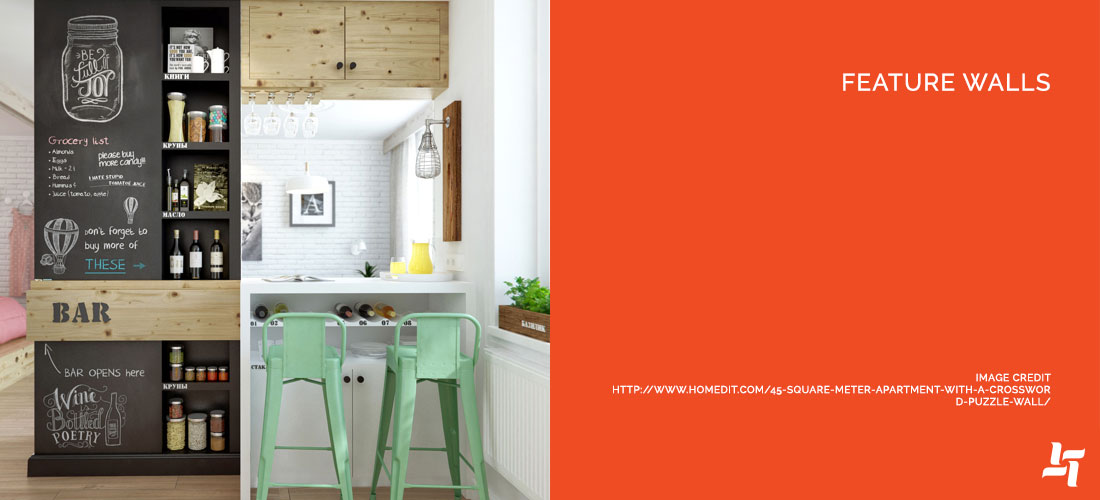 Bringing a chalkboard wall into your kitchen doubles as both a creative and organization element. If you're artistically inclined, your have a wall that can feature a new design piece every week. For families with younger children, the board is a surface where they can doodle to their heart's content without damaging the walls.

Even better, a chalkboard wall can serve as a communication centre in the room that is traditionally the hub of activity. Use the chalkboard wall to write down important messages, recipes to try later, delegate chores and keep track of the family's schedules.
Feature the Bathroom
Bathrooms, by their very nature, are separate from the main living areas and continue to be enclosed, despite the growing 'open-concept' trend. Due to this inherent feature, the bathroom is the place where a homeowner can really experiment without risking the overall tone of the home. A separate room means separate rules.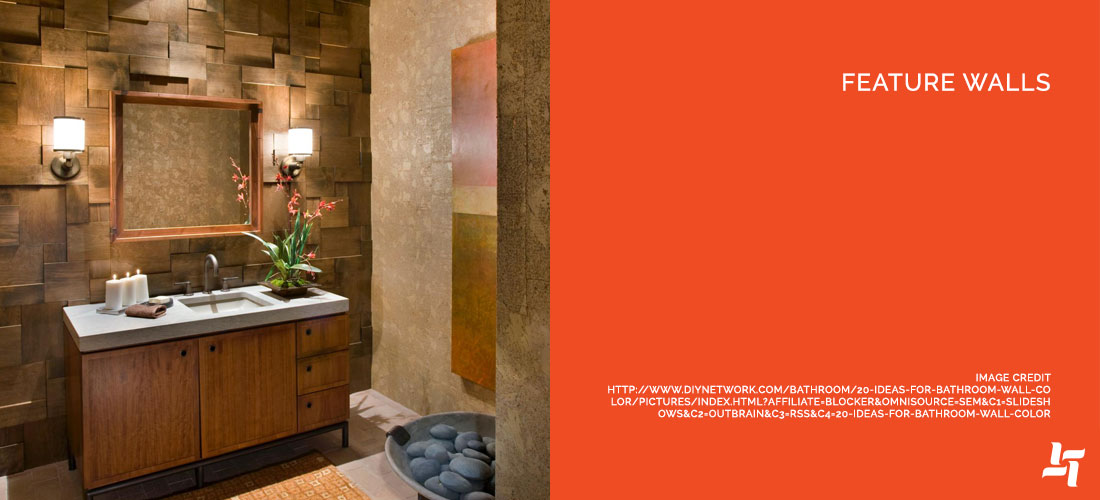 The bathroom has the advantage of being a pretty open canvas in terms of what styles and materials will work within it. The pallet and stone walls, mentioned previously, would work perfectly in an updated bathroom. Tile is a traditional material in this room and so any kind of stone, tile or mosaic work is a natural fit.

The popular growing trend of more rustic and natural wood finishes throughout the home is being brought into the bathroom just as frequently, so pallet walls apply here as well.

People are even beginning to take the basic wall element, paint, and bringing it to the next creative level. Applying patterns, textures and murals are other options for accent walls.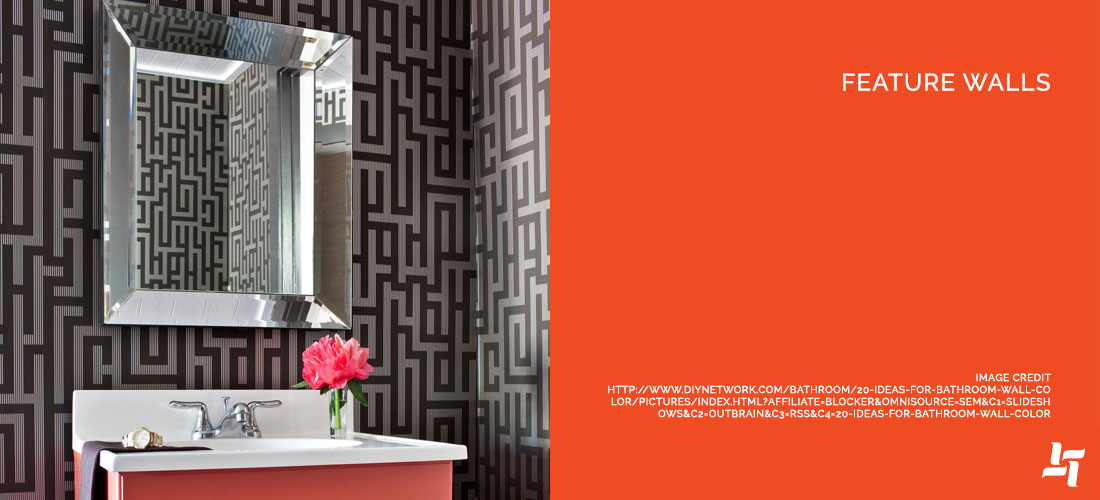 Feature the Family Room
Make the family room all about the family. A gallery wall is an eye-catching feature for your family room; it allows you to display unlimited creativity in terms of layout and gives you the opportunity to show off those new photos you've been dying to pull out.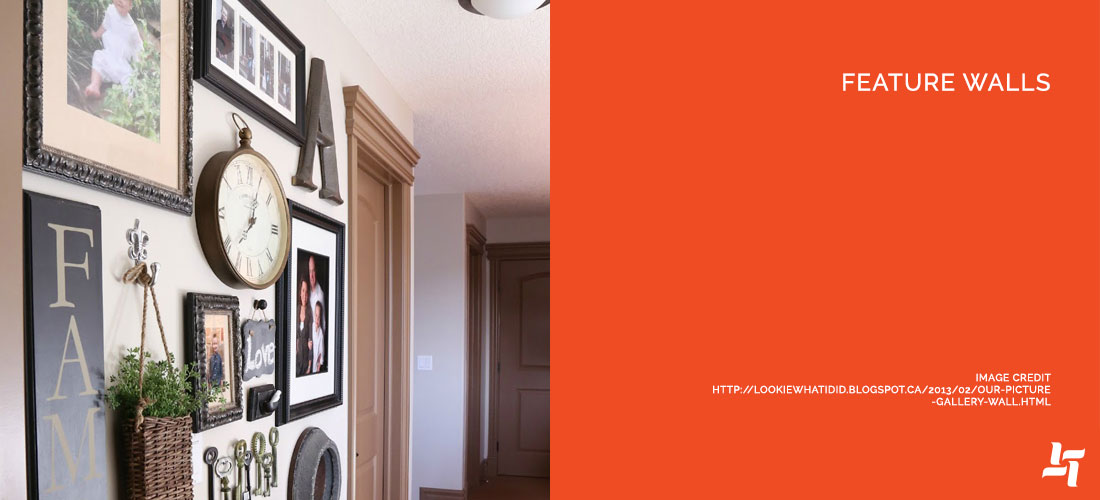 There are a number of options to choose from with a gallery wall, in terms of display, layout and materials. It could be as simple as canvas prints displayed in a grid, a more complicated mix of frame sizes or even hanging prints rather than securing them to the wall.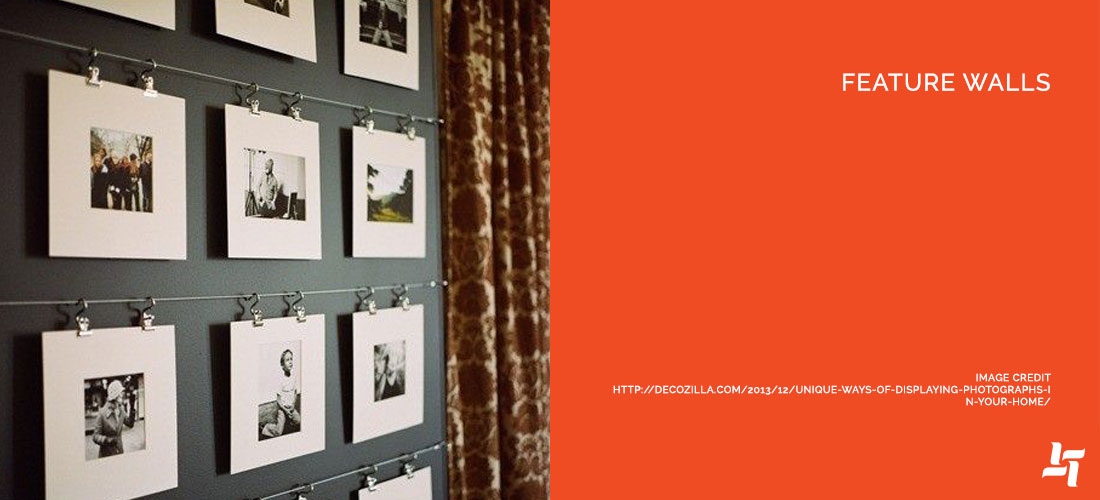 Feature the Dining Room
Photos aren't the only things you can display in a room makeover. Remember that fancy china set you love too much to eat off of? What better place to display your plates and glassware than the dining room?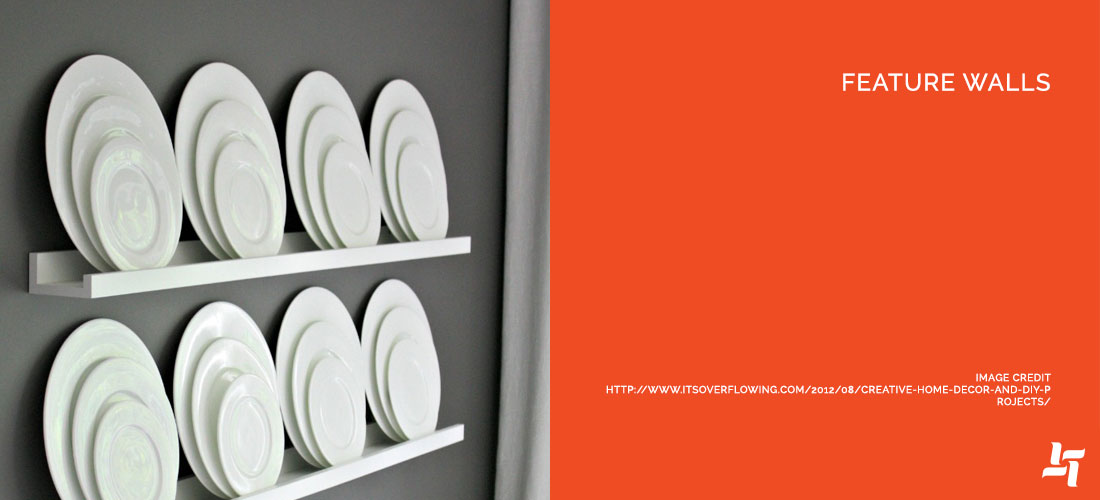 Play around with different options like shelving or fixing the plates directly to the wall. To really make this feature wall pop try adding special lighting to highlight that specific space.

Feature the Entertainment Centre
This one should be fairly straightforward. Whether it's in your finished basement or living room, the entertainment centre should be incorporated into the feature wall. In fact, the entertainment centre itself can actually be the accent piece.

With built-in shelving, customized for your space and devices, you can create a showpiece to rival any room in the house.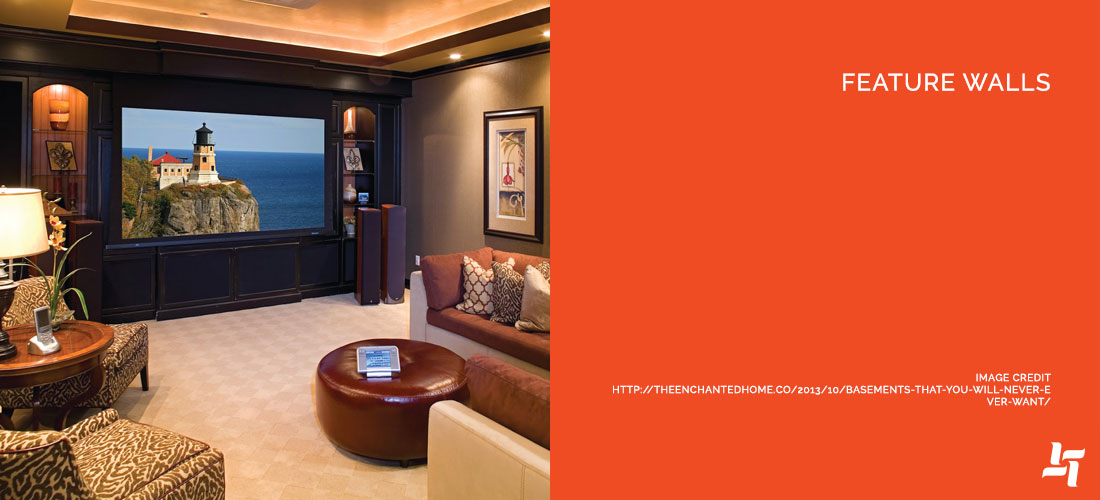 Materials and styles are very open in this case again but the key is to choose everything in how it will highlight the entertainment devices. Commonly, the flat screen is the centrepiece of your feature wall in this case. The shelving is designed to subtly hide the less attractive looking digital devices, while highlighting other décor elements.

While some feature walls lend better to certain rooms than others, recent home renovations are defined by increasing bouts of creativity and thinking outside the traditional box. Try incorporating an accent piece into rooms you'd never consider! Get in touch with us at Karry Home Solutions for even more ideas on custom feature walls.