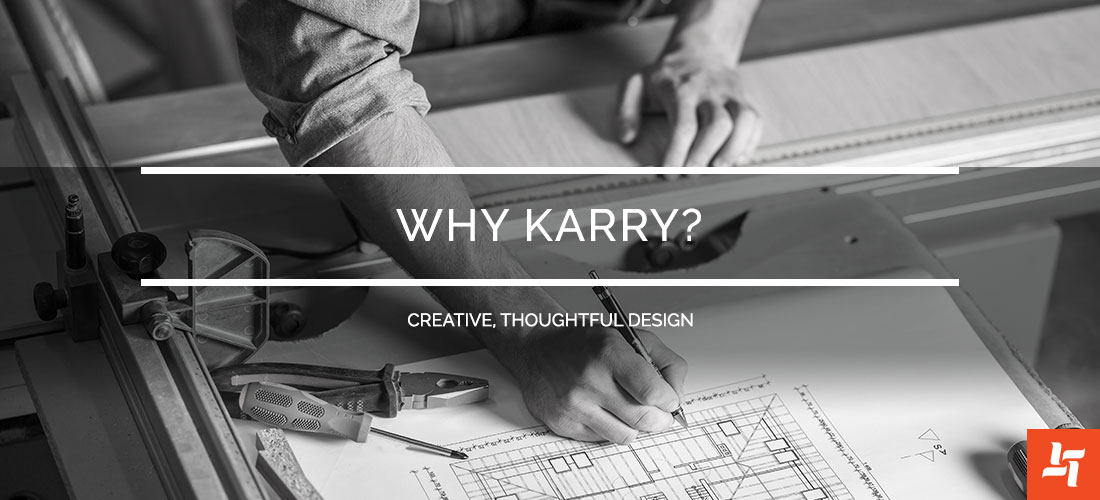 Why Karry? Creative, Thoughtful Design
A great renovation goes beyond the execution; it starts with a great design. Our team is more than just craftsman and contractors; we also have incredible designers.
First point of contact
The Karry designers are your first point of contact and get your dream renovation started. When you give us a call or drop by our showroom, you'll meet with one of our designers for a free consultation.
We're great listeners, which is how we ensure designs that our clients love. Great detail is dedicated to hearing out your specific needs, tastes and wants, and those are applied with our knowledge. We seek out the best options to meet and tie in your requests and budget.
Adventurous design
Whether you swear by contemporary, rustic or something in between, we appreciate every style and take on the opportunity for a new challenge with enthusiasm. Think of it this way: when you come in, you're bringing with you a chance for us to explore new trends and ideas. There's nothing better to us – bring on that next project!
'Lova your design' guarantee
We've been doing this for over 30 years, and our designers are a big part of that success. Time after time, we put out designs that wow our clients and bring them back repeatedly.

After hearing your plan, we'll present you with a couple different design options to choose from. This ensures that you never have a 'what if' feeling down the road. You can even blend elements from different designs if that's what will create your favourite look – anything less than absolute love for your design won't cut it.

Where else can you get that guarantee? We're just as excited for your home makeover as you are, so let's get started. Drop by our Brampton showroom or give us a call for your free consultation!