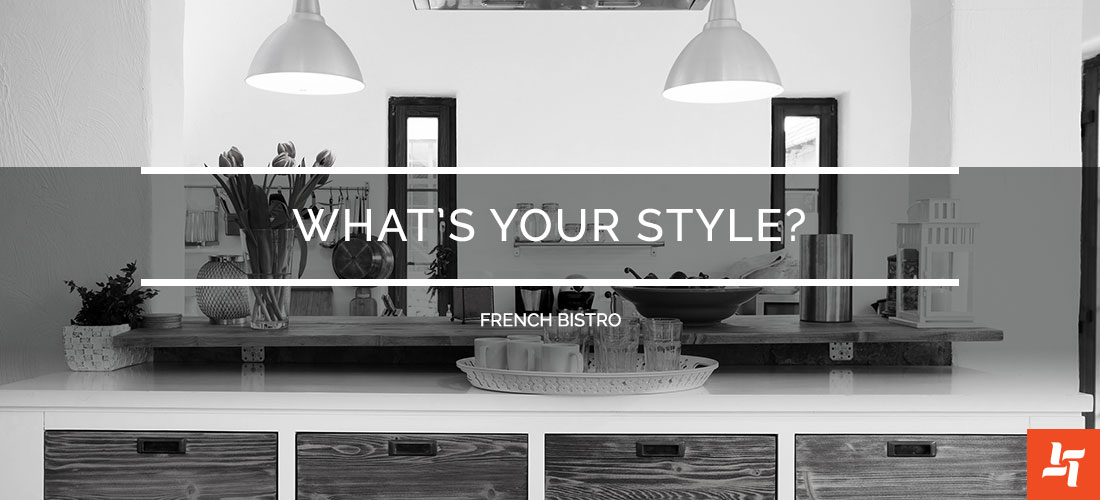 What's Your Style? French Bistro
Overview

French Bistro is a style almost exclusively used in the kitchen. With elements of contemporary, industrial, and vintage, all at play here, there's something for everybody. If you've always wanted to bring a bit of Parisian flair to your home, this is the style for you!

Remember that the primary focus with a French Bistro kitchen is the mood you're creating: intimate, warm and trendy.

Layout

Unlike many contemporary styles, French or Parisian Bistro isn't defined by an open concept. In fact, that often can hinder the feel. You don't want things to feel cluttered or uncomfortable, but you do want them to feel cozy.

Imagine a Parisian café; inviting, social and warm.
Materials

You're definitely not limited in your material options in this style. French Bistro can be created through rustic elements like natural wood and textured materials just as much as with glossy tile.

Tile and glossy stone are definitely big staples of the style (as tiles are often the go-to material of café's for easy sanitation purposes). Fabrics and chalkboards are big elements too though, as well as metals.
Surfaces

This is a tricky element to decipher with the French Bistro style, because both smooth and texture can be used, but in certain ways. For example, chalkboards, zinc countertops, and vintage posters, are very common and they all have a weathered, matte kind of look. These elements commonly come through in the finishing details.

On the other hand, tile and marble are big staples of this style too, as well as stainless steel. They take up big parts of the space, like the floor, backsplash and counters. The best rule of thumb is to browse design ideas online, like with Pinterest, and even research real Parisian cafés to see how they find a balance between these elements.
Colours

Colour is where French Bistro is able to distinguish itself more clearly. It's definitely a warmer design style. While the neutral tone of contemporary styles is usually a grey or white, the common wall colour for this one is a warmer taupe, beige or yellow. Like contemporary, big pops of colour are still used against that main backdrop.

Like Mediterranean colours, you'll want to draw in ocean colours, like blue, green and sandy yellows.
Furniture/Appliances/Hardware

Picking appliances for this style depends on your tastes. Stainless steel works well with this décor, as it does with most styles, but the French Bistro look really pops with colourful, vintage appliances. Stoves inspired by the vintage, European wood ovens can cost a pretty penny, but they are so worth it. This is the style they were made for.

For dining, consider bistro chairs and bar stools, defined by their simplicity fabric-wise, and detail in the actual structure. Hanging pendent lighting and chandeliers are ideal for a Bistro kitchen.
Décor/Finishing

Your décor and finishing touches are where you can really sell the French Bistro kitchen. Window awnings immediately call to mind the chic cafés in Paris, so those are a nice touch. Similarly, vintage artwork and hand-lettered posters on the walls (or chalkboards!) really sell the look.

Show off your cook ware and dishes! Open shelving is huge with the Bistro style, so hang those pots and pans (copper and iron skillets look especially gorgeous here) on the walls. Espresso or natural wood shelves with stark white plates are a stunning touch too.
With a French Bistro kitchen, we guarantee your guests will be talking – and inviting themselves over! This is the style for those who love entertaining and want to feed that wanderlust.
We have a huge selection of materials – cabinets, tiles, and designs – to choose from at our warehouse in Brampton, Ontario. Get in touch with us to start your renovation or stop by to talk inspiration. We can't wait to swap ideas!