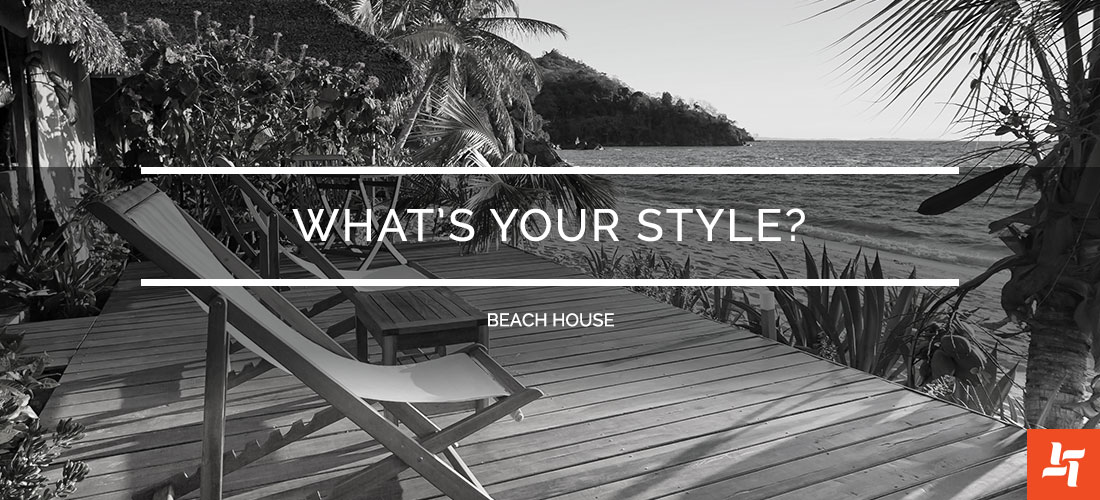 What's Your Style? Beach House
Overview

With sunny days so close but still so far, it's a nice time to think about the beach. A seaside beach house is the best of contemporary and Mediterranean styles. The neutral, calming pallets of contemporary are mixed with the airy, seaside vibe of Mediterranean.

Sound like your thing? Read on!
Layout

An large room aids this style best in that it encourages an outdoor feel, but large windows help this feel as well. The important part of your rooms architecture is that it should feel sunny, light and just steps away from the beach. An actual beach nearby definitely doesn't hurt.

Consider accordion doors or windows. These windows or doors fold back (like an accordion) and create one long, glass wall. Once opened, this can create a serving window to your backyard, or turn a living space into a semi-outdoor one.
Materials

Take cues from the contemporary style on this one, with a little less strict 'maturity'. By this, we mean add more pops of colour and ocean/beach related décor; you can be a little more playful here.

Natural, light-stained woods, or pure white painted headboard apply, as well as weathered materials. The idea is that the salt and sand from a beach environment will inevitably add character to materials by wearing them down.

Stone can work in this style too, but don't go overboard. Too much marble or granite comes off a bit too polished for a beach house, but limestone and pebble mosaics are perfect!
Surfaces

A combination of both texture and smooth are at play in the beach house look. Granite counters are extremely versatile, but textured fabrics (like in Farmhouse styles) work just as well.

Like your materials, remember that not every surface should be pristine and glossy: beach sand definitely isn't!
Colours

This is where the Mediterranean style comes into play. Things are generally neutral in a beach house (commonly with a base of white paint or white finishes) but you can have way more fun with colour pops.

Like Mediterranean colours, you'll want to draw in ocean colours, like blue, green and sandy yellows.
Furniture/Appliances/Hardware

A beach house will have a combination of comfort, without an overly expensive look. No one who just dragged in sand from the beach wants to plop down on a brand new couch. This doesn't mean you need to accept a filthy beach house, it just means that there is a cozy, lived-in feel.

Hampton's and contemporary style furniture are a great place to look first. They are defined by cleaner, simple lines rather than extensive detailing but are still plush and comfy.

The same can be said for faucets and hardware. There is no need for anything grandiose or super detailed; keep it simple! The finish is up to you, but dark metals are gorgeous for this style.
Décor/Finishing

Seashells, seashells! It's important not to clutter the space and make it feel small, but definitely have a blast with beach related trinkets. Seashells, sand-filled centerpieces, and dried starfish are must-haves. Try some distressed picture frames too. Keep it airy, but there is a world of sea-side décor items at your disposal and you should embrace them!
We love anything to do with the beach here at Karry, but who doesn't? The beach house style is wonderful for bringing that sunny feeling to your home, even during the dreary Canadian winter. Come in for a consultation with us to see how we can bring the beach to your house!