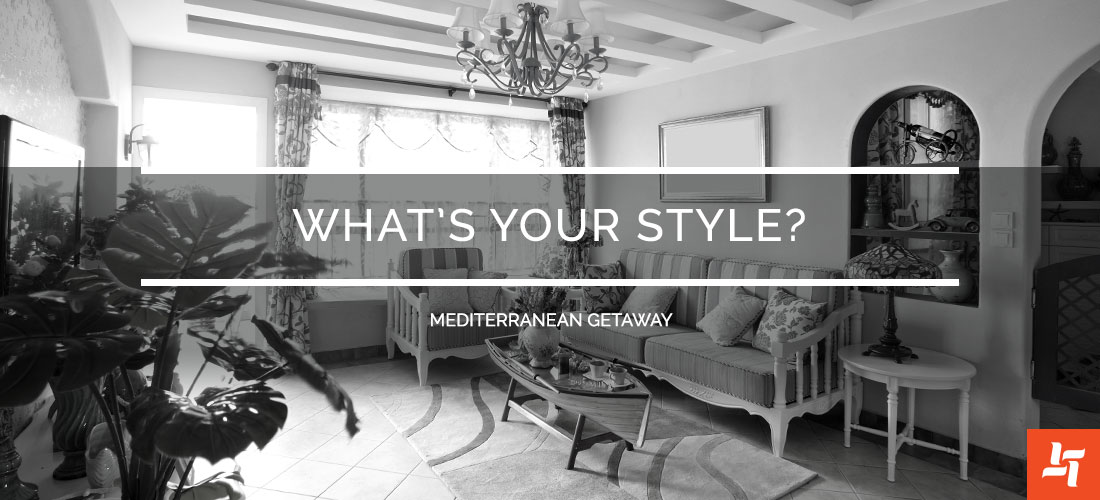 What's Your Style? – Mediterranean Getaway
Overview

You won't find a style bolder than Mediterranean. Where modern trends aim for neutral and sedate, this style throws caution to the wind. The Mediterranean style is for those that don't mess around with décor; go big!

Layout

A major advantage of the Mediterranean style is that it doesn't necessarily require expansive space or tight quarters. It's the colours that matter most here. What does help though, is big windows or doors that can open up to link the outdoor space with the inside. Think a seaside villa.
Materials

Tile is one of the biggest and most well-known elements of this style. Mosaic features in showers, floors, walls, counters etc. are all big here. Choose an assortment of your favourite tile colours and textures, and create your own fresco!

Perhaps lesser known than tile, but equally as important, are burnished metals. Elements like copper, bronze, and wrought iron, are big staples in the Mediterranean style. Consider these metals for hardware, fixtures and even countertops.
Surfaces

Classic Mediterranean homes are built with plaster and ultimately are defined by textured walls. While this building tool is less common in Canada, creating that textured effect is popular. Plaster or sand-texture are often applied directly to dry wall to create the illusion of deep texture.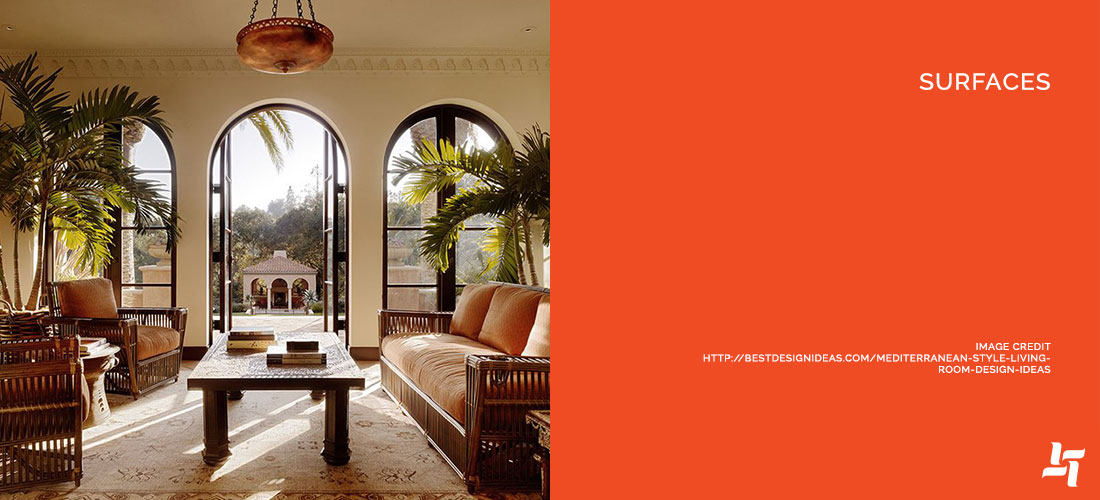 Colours

Colour is easily the most important element to this style. There is no fear of overdoing it here. While modern 'Spanish Revival' variants of this style tend to favour a subtler colour palette, the traditional Mediterranean look is all about being bold.

Your best guide is to tie into the blues of the sky and ocean, as well as the warm terra cotta and yellows of Spain.
Furniture/Appliances/Hardware

Furniture and hardware should be detailed and intricate. Chairs and sofas often have ornately carved wooden legs or arms. As mentioned earlier, burnished metals are big in this style, so consider them especially for faucets and hardware.

As for appliances, modern revivals mean you can use either the popular stainless steel or more intricate antique designs (like in the kitchen).
Décor/Finishing

Feel free to run wild with the décor in Mediterranean rooms. The emphasis on tile mosaics should hint to you that patterns will work well. Try bringing in colourful throws and pillows with detailed designs. Use this opportunity by experimenting with antique centerpieces, metal displays, and colourful wall art.
We're big fans of the Mediterranean look here at Karry and we love opportunities to bring it into other people's homes. Do you love this style as much as we do? Stop by our showroom to see some samples and talk renovation ideas!