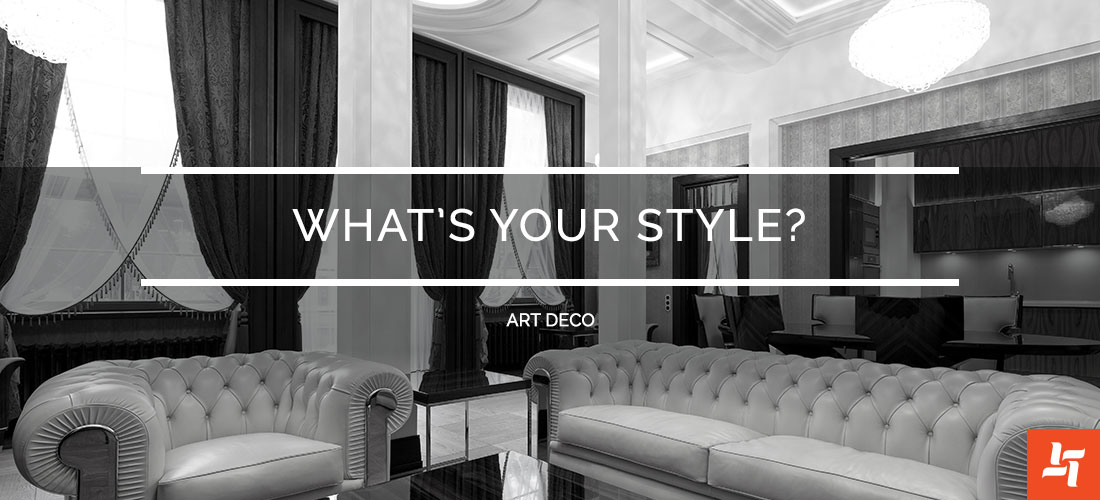 What's Your Style? Art Deco
You deserve a space as sophisticated and glamorous as you. We can create it for you. Give us a call!
Get Started
Overview
Art Deco arose as a home design style in between the World Wars. With the grandeur of the roaring 20s leading to the desperate times of the Great Depression, Art Deco was a welcomed escape from the economic downturn.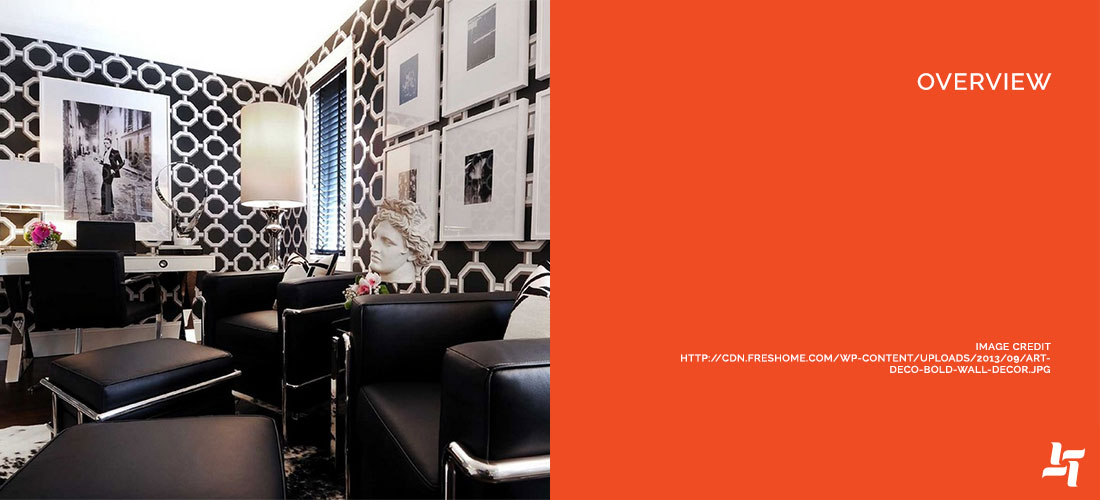 It serves function, but it also is very much about spectacle and drama. It's grand, luxurious, opulent and sophisticated – think of The Great Gatsby set design. Better yet, if you can picture Gloria Swanson lounging in your pad, you're on the right track.
Layout
This style doesn't demand open-concept or big rooms. Indeed, open-concept wasn't a popular trend during the 20s-40s. Having said that, a big, open space naturally lends to a grander feel, so it would help.
Lighting is an important element here – mood lighting especially. In this sense, big open windows and natural light can work against you. Try some curtains that soften the lighting and include decorative sconces or chandeliers.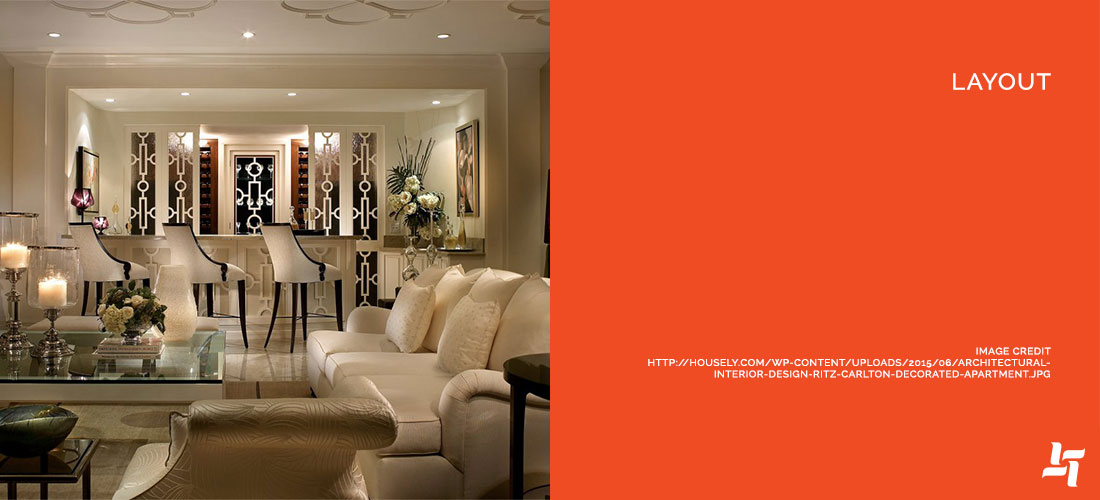 The last element to consider in layout is symmetry. It is a crucial piece of this style, so lay out your furniture, bed liners, furnishings etc. in exact balanced symmetry. For example, try two identical makeup/vanity stations on either side of a wall in the master bathroom.
Materials
Shiny is luxurious. Art Deco was about a futuristic outlook – so shiny and glossy materials work great here. Consider using shiny finished metals like brass, bronze, chrome, gold and silver. Additionally, materials like glass, tile and mirror are a great way to bring a smooth, glossy feel to any room.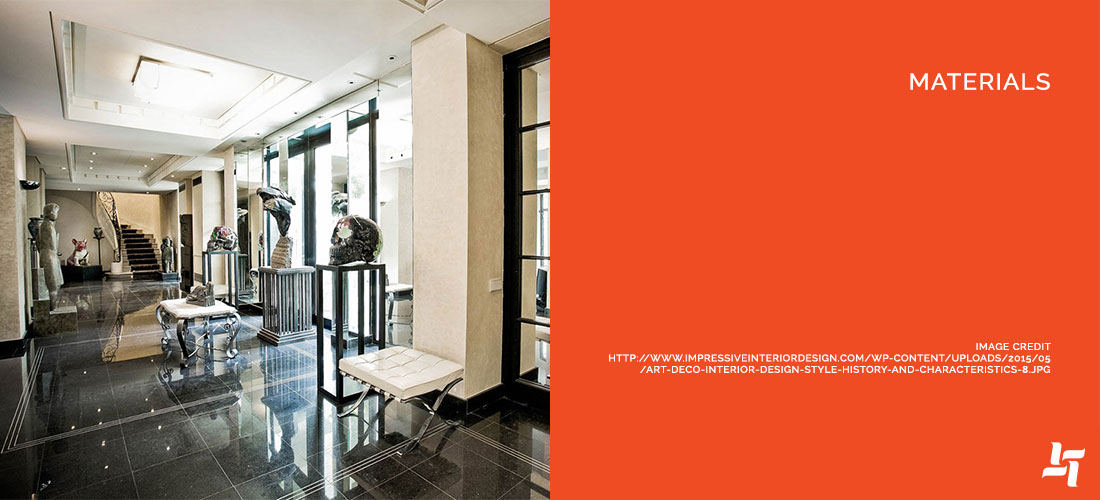 Surfaces
Like we mentioned in the previous section, shiny and sleek are ideal for this design because they lend to the futuristic, modern theme. Use glossy finished elements, on metals, woods, paints and tiles.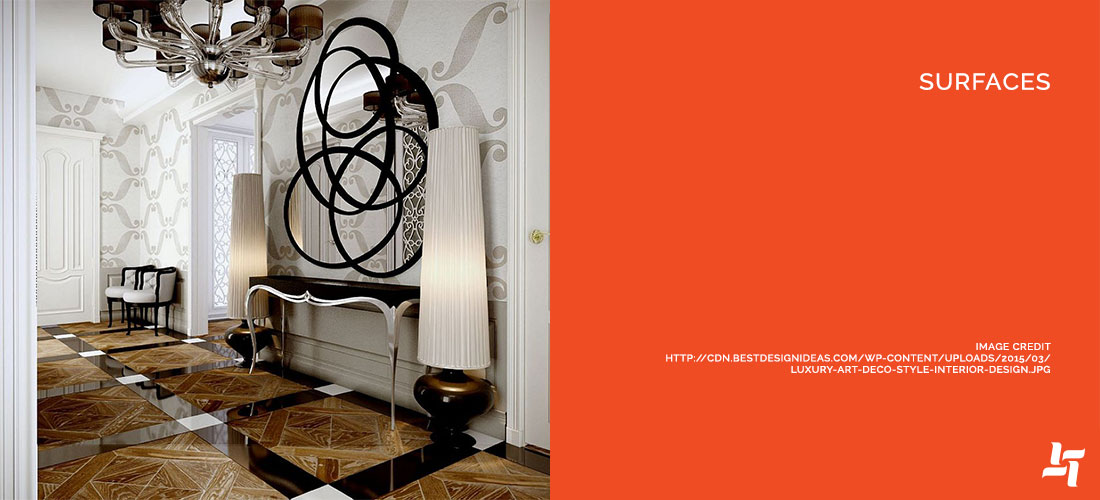 Colours
Bold, bold, bold. That is not to say that neutral colours won't work, they just need to be applied in a bold way (combine different neutral shades in a geometric design).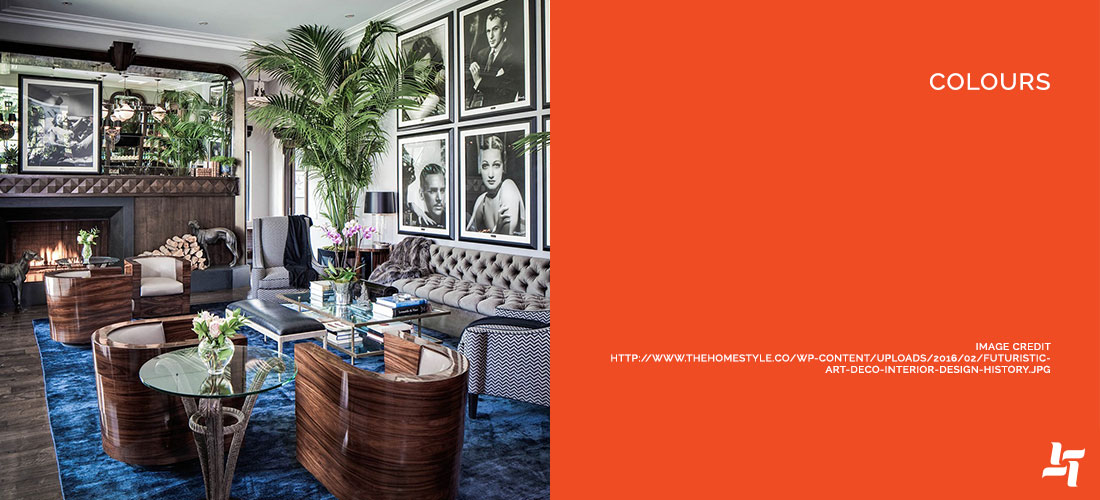 Rich colours work wonderfully in here too, but don't overdo it. You don't need to use every colour. Imagine a peacock's tail feathers, that's a good palette to consider. Additionally, consider the rich reds and golds from classic movie theatres.
Stark black and white are a classic colour scheme as well. Keep it dramatic and let the contrasting colours speak for themselves. Think about the resurgence of the cat-eye makeup and how glamorous it is. That's the feeling you want to achieve.
Furniture/appliances/hardware
Sconces and decorative lighting combined with the shiny materials made so popular with this style are a great focus for appliances. Natural wood furniture, especially with glossy finishes, work surprisingly well with shiny surfaces too. Just keep the furniture design minimal and centered on geometrical patterns.
Remember those old wardrobes, makeup tables etc. made of mirrors? This is the décor where those work beautifully. Round it out with leather couches (the smooth leather surface ties in perfectly).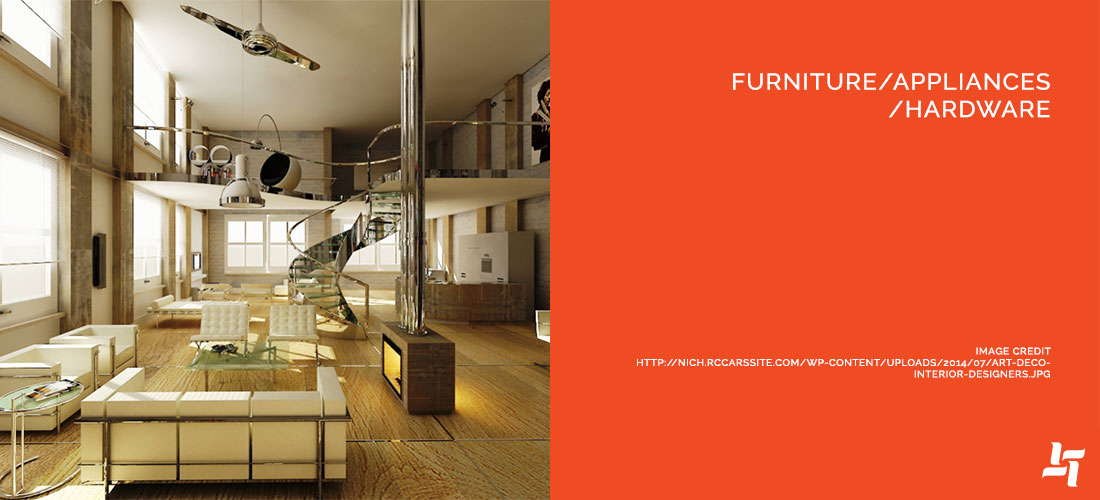 Décor/finishing
You can get really creative with this kind of décor. Your basis is (you guessed it) geometric patterns – essentially minimalist but still capable of drama. Use angles, lines and bold curves. That sun flair wall sconce design associated with old movie theatres came from Art Deco and is a sure way to inspire that feel.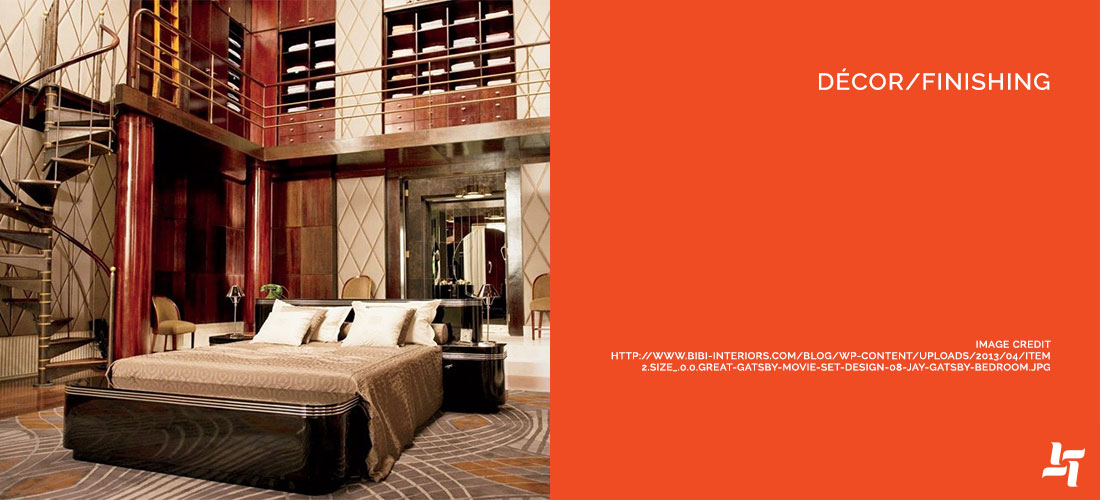 Finish off your décor with showy rugs that use bold lines and luxurious textiles lined with gold or silver threading. Create the opulent palace you deserve!