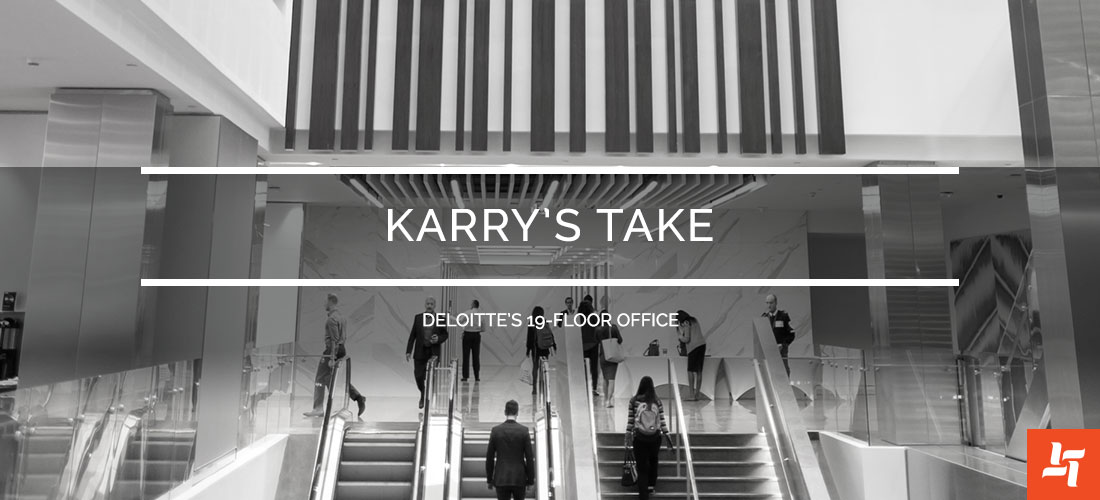 Karry's Take: Deloitte's 19-Floor Office
We want to be a part of creating your unique, jaw-dropping home design. Give us a call for a complimentary consultation.
Get Started
We were so inspired by the fresh, exciting ideas that came from our last focus on office design that we're doing it again! We couldn't resist this one.
The Space
This office is massive. It spans 19 floors in a tower at Yonge and Adelaide, and tallies up to 420,000 sq. ft. All this to accommodate over 4,000 employees. It's brand new and takes a modern approach to the work life.
Deloitte employees don't have designated desks. Instead, over half the office space is made up of communal work areas. Everybody checks in, grabs their stuff, and picks where they want to work for the day. That kind of casual, inspiring freedom can totally be applied to the home.
What We Love
1. Open Concept gone wild
All 19 floors are bright and open. Very few areas have a sectioned off feeling (save for the deliberate cozy cubicles made for 'on the grind' work time). This kind of openness naturally inspires a feeling of relaxation; it's like taking a breath of fresh air.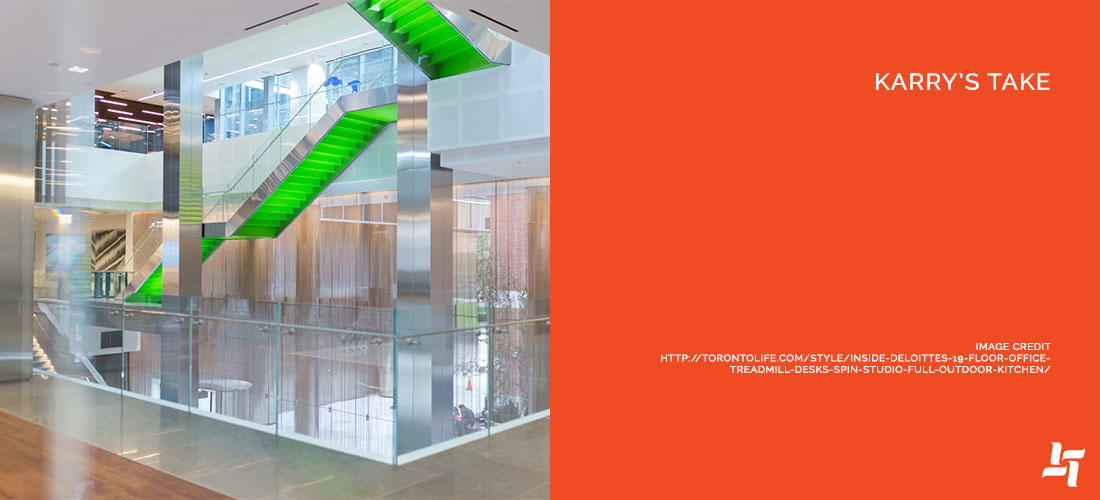 Perhaps that's why open concept is so big right now. In an increasingly fast-paced world, a little breathing room goes a long way. Consider big windows, natural light and open concept layouts in your home.
2. Stairs as an artistic feature
A big mistake in home design is seeing your main staircase as merely a functional element. That piece can be something beautiful, an artistic accent feature to set your home apart.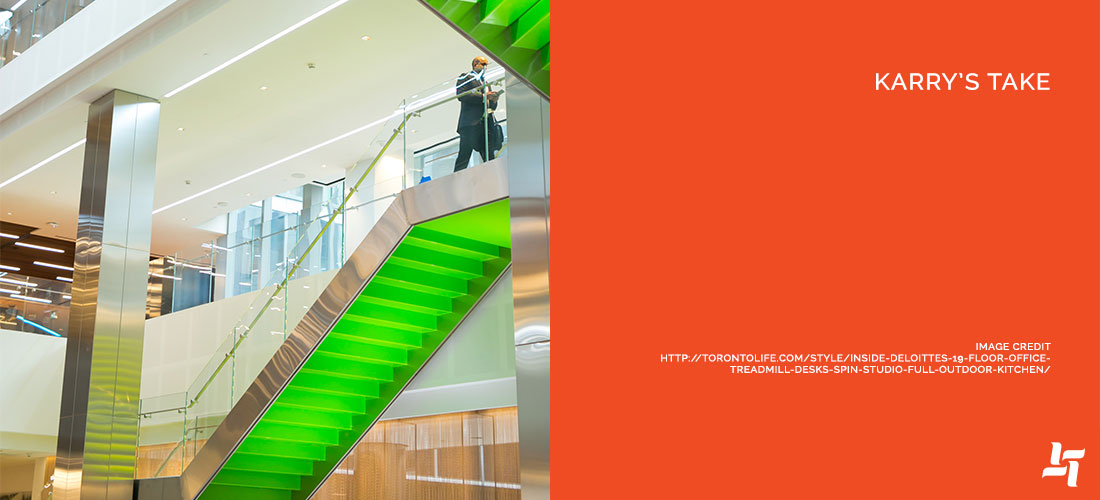 That's what this office did beautifully. Their staircases are a bright, lime green with open glass railings. The colour is eye-catching, fun, and most of all, it inspires enthusiasm and excitement.
You don't have to do bright green stairs in your home (if you're bold enough, all the power to you!) but put in the extra thought into your staircase design that it deserves.
3. Emphasis on relaxation
It goes without saying that an environment that makes you want to scream doesn't inspire productivity. These offices have tons of spaces dedicated to unwinding and keeping sane.
From yoga studios to meditation areas, cycling rooms to treadmill desks, this office is a place you want to be in. That inspires great work.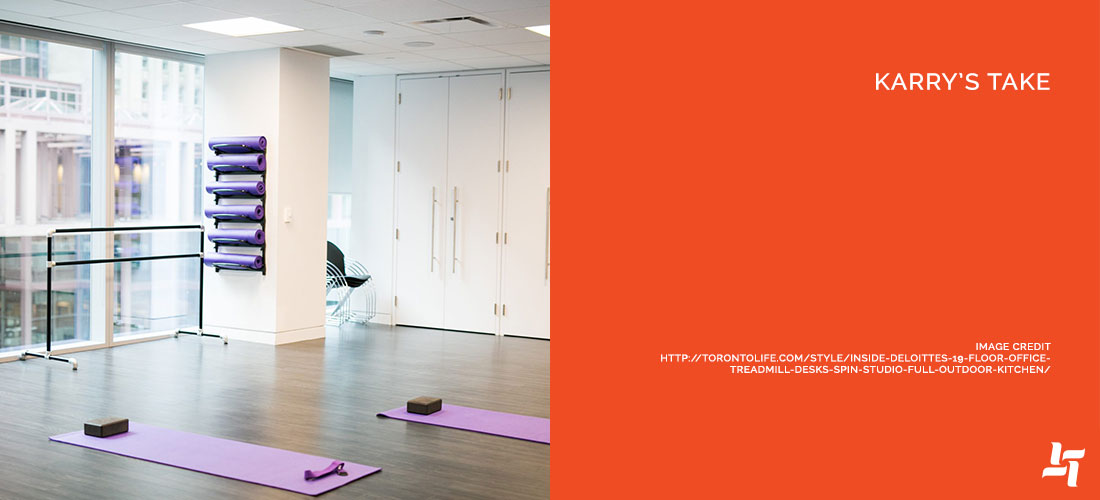 Apply this at home. If you don't have the square footage for a yoga or exercise room, dedicate a portion of your living room, finished basement or bedroom to calm.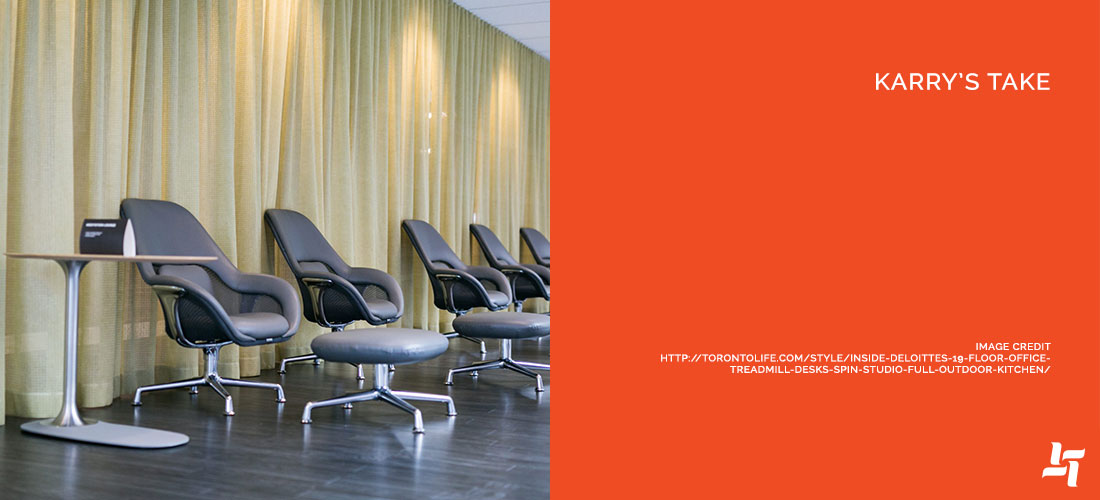 A cozy chair by the fireplace or a chaise lounge with a view of your backyard; whatever your preference, give yourself a place solely focused on your relaxation.
4. Importance of outdoor space
Canadians can be guilty of neglecting outdoor space at times. That happens when three quarters of the year have you buried in snow, leaves and rain. Your front and backyards are an opportunity for extra living space and personal getaways. They're worth the investment.
The Deloitte headquarters understands the benefits of a literal breath of fresh air. Their sixth floor has an open patio with a full kitchen, speakers and a view of Yonge St.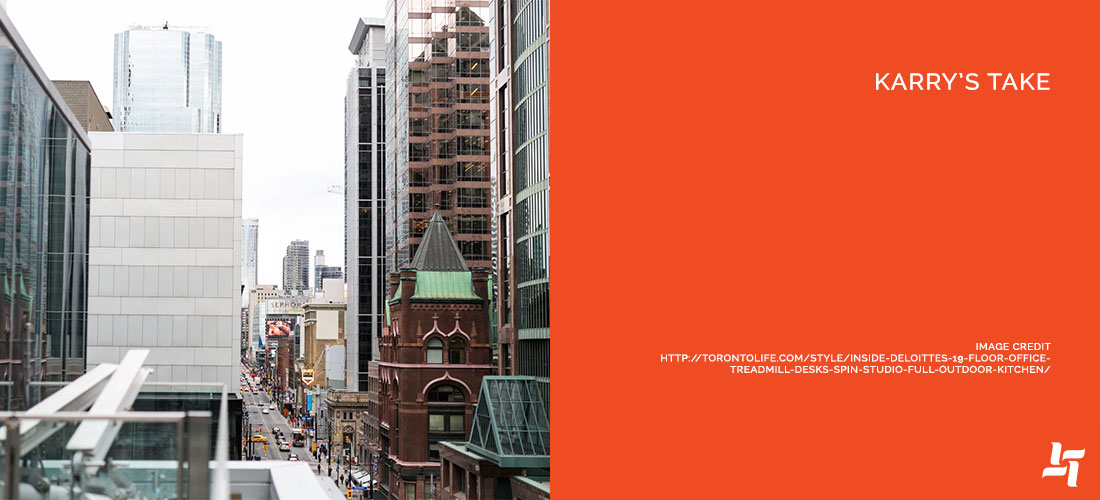 Not every homeowner is lucky to get (or afford) a jaw dropping view, but that doesn't mean your yard can't be incredible. Take notes from this office's patio features and bring them into your space for extra square footage and extra value for your home!
5. Office kitchen to rival most homes
Every level in the office has a café meant for break time and meetings. We'd take more than inspiration from these spaces: we'd love to recreate them piece by piece in someone's home!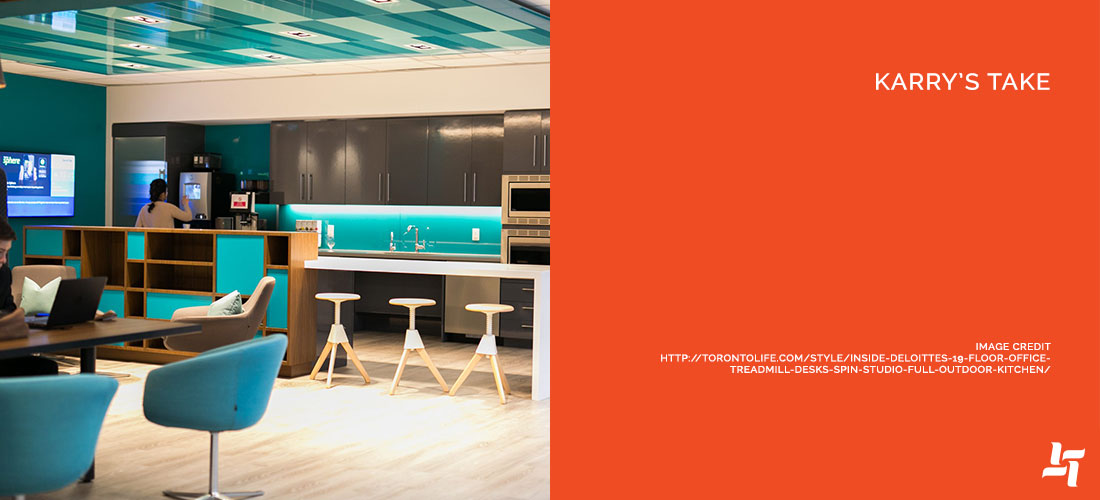 The 'kitchenette' design rivals most home kitchens and we love the modern feel. The waterfall counter for bar seating, the bright teal colour, and the custom storage unit that doubles as a show piece. It's gorgeous, it's fun and it's functional.
What We'd Change
It's hard to offer up changes to an office design that pretty much aces everything. They might as well add areas with oversized couches and blankets at this point and officially take the 'number one office' prize though. Sweet of them to give others a chance.
The Bottom Line
When it comes down to it, this could easily be one of the most enviable spaces period. Never mind it being an office space, we're sure most people could happily live here.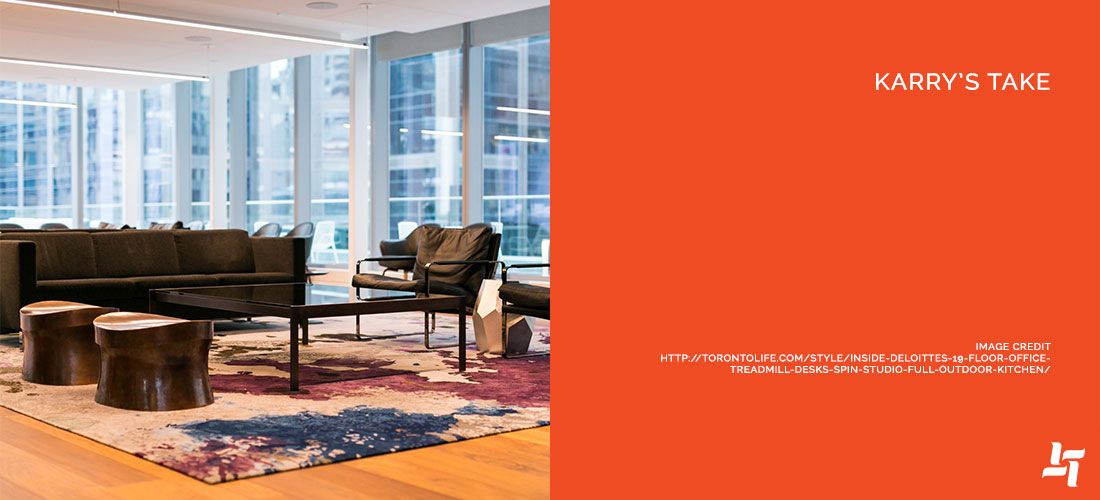 Offices are the next frontier of high-end, ahead of the curve design. Go about your work life and take inspiration from the spaces you walk though. This is where you'll find ideas outside the cookie-cutter trends and to personalize your home. We'd love to bring those ideas to life: get in touch for a free design consultation.