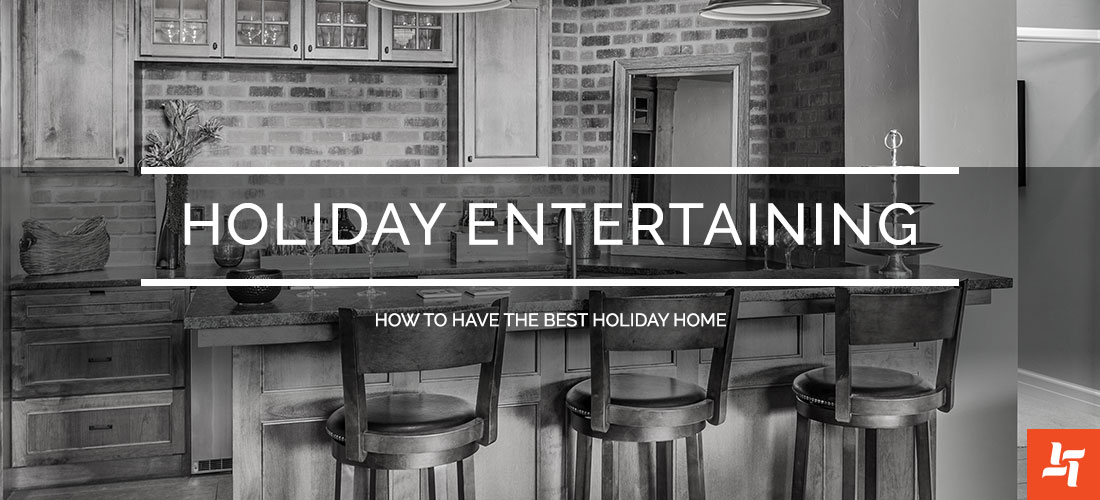 Holiday Entertaining: How to Have the Best Holiday Home
Overview

Make no mistake: the holidays are coming fast. Time to spruce up the house and prep for the entertaining season. This month, we thought it would be perfect to share out favourite renovations designed specifically for entertaining in the home!
Wet bars

Eggnog, champagne, wine – they're all on the horizon with holiday season looming. With a modern update, wet bars are making a big comeback in home renovations and construction.

Often used as transitional spaces between kitchen and dining rooms, or additions to living rooms, wet bars are ideal for entertaining groups. This holiday season, keep your family and guests happy with a dedicated bar space. Your home will be life of the party and your kitchen will be crowd free for its main purpose.
Full bars

Why stop at a mini bar though? A full bar in your home will make your house the place to be for the holidays. A renovated basement, an insulated garage, or spare room, all make for great bar areas.

This is an amazing idea for creating an entertaining space, because that is its primary purpose. No multi-tasking here, just pure entertainment. With home owners bringing in kegorators, high-end coffee makers, and a bunch of other goodies, a full bar will keep every guest happy.
Renovated Basements

This one is all about square footage. A fully renovated basement has the benefit of extra space for extra people, and the opportunity to double up on all the other entertaining ideas on this list.

If you build your basement with durability in mind, you can comfortably move the whole family downstairs, while keeping the main house disaster free post-holidays. We can feel the collective sigh of relief.
Game Rooms

The game room isn't for kids anymore. Pool, poker and foosball tables can turn this in to the ultimate play area for grown ups. Set up a comfortable entertainment centre to watch the big game and include a wet bar for drinks. This room can make for the best kind of Christmas.
Play Rooms

This one is ideal for the hosts dreading a heard of children running rampant through the house. Send them all to the play room and the adults can bask in a chaos-free night out.

Particularly with younger families, a play room can be outfitted for child safety and equipped with everything to keep them busy. This is a great entertainment space, because it frees up the big kids to enjoy entertaining in the first place.
Breakfast bar/Island kitchen

Along the same lines as finished basements, a breakfast bar or island kitchen adds just a little extra entertainment functionality. Islands and breakfast bars indicate how groups can congregate or talk amongst themselves while in the kitchen. And let's be honest: everybody ends up in the kitchen.
Large dining room

A family's got to eat, especially during the holidays, so a large dining room is a huge plus. Whether your dinner party is cozy or massive, extra space in the dining room makes a night out more enjoyable. Most obviously, it helps when there is room to seat everyone comfortably. Even with a smaller crowd, it's still great because there's available space for décor and extra touches.
Home theatre

As advanced as technology is these days with the mobile scene, nothing will ever beat the theatre experience. A home theatre built with comfy seating, a great screen, and a little swag, is just what the holidays ordered. The whole family can curl up to watch It's a Wonderful Life or National Lampoon's Christmas Vacation; whatever your holiday tradition.
When in doubt, try mixing and matching some of these awesome entertainment renovation ideas if you can't choose your favourite. Karry is always excited about these kind of remodels, so give us a call to get your house holiday ready!