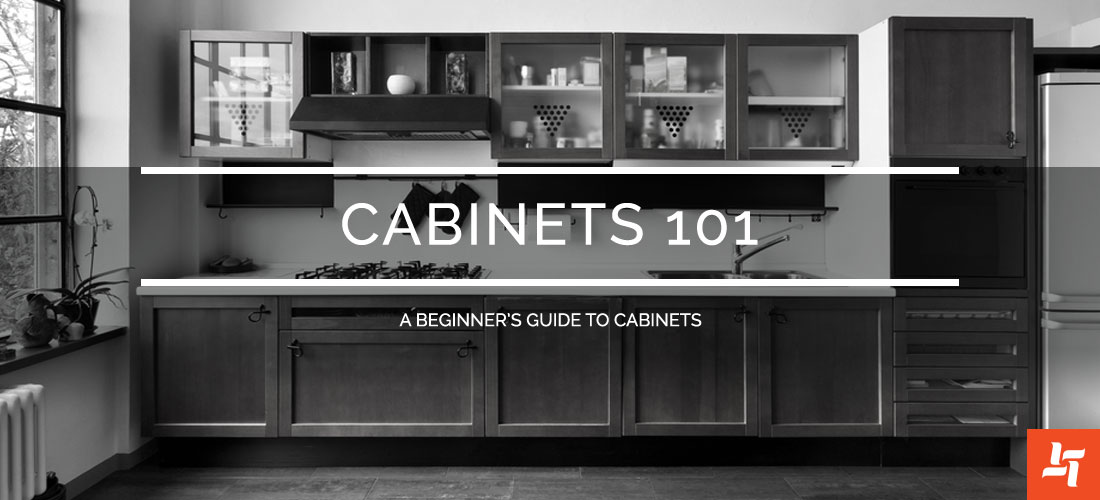 Cabinets 101: A Beginner's Guide to Cabinets
To start us off on our cabinetry adventure, it's important to know that cabinet doors fall into three main categories: inset, partial overlay and full overlay. These terms relate to the cabinet doors, or more specifically, the amount of cabinet face frame left revealed or covered by the cabinet door. Let's narrow this down:
1. Inset

This style is quickly becoming the most popular with the rise of modern and contemporary styles. With inset cabinets, the door and drawer faces fit perfectly into cabinet frames, leaving a flat, geometric, and modern look to cabinets.

Look at the picture above and notice how the door hinges aren't visible and the doors aren't installed over top of the frames. This is the easiest way to distinguish inset cabinets from the overlays.
2. Partial Overlay

Partial overlay is one of the more traditional cabinet styles circulating these days. Taking a look at the picture above, the most noticeable difference with partial overlay is that the doors are installed overtop of the cabinet frame and leave the frame partially visible.

In the partial overlay, a small piece of the cabinet frame is visible in between the cabinet doors. This is the major means of discerning partial from full overlay.
3. Full Overlay

Full overlay cabinets are a great choice for a new kitchen because they can be both modern and traditional, based on the style chosen. Notice in the above photo that the cabinet frame visible between doors in the partial overlay is almost completely covered here. This is how we define a full overlay.
Styles

The selection of style for cabinets is vast and can fall into a different category based on minute changes. When it comes down to it, getting custom cabinetry created specifically for your space is the ideal option; you'll get exactly the style you're looking for without having to compromise.

We're going to take a look at some of the most popular cabinet styles.

Shaker

With modern and contemporary's rise in popularity, shaker style furniture has risen with it. The simple, clean lines that define this style lend well to any décor, but they especially mesh with modern trends. Shaker cabinets are usually inset to add to the geometric feel, but they also look great with full overlay, as you can see in the last photo.

Shaker cabinets are created using five flat pieces; four narrow strips, which make up the outer frame, and one flat piece to comprise the middle face.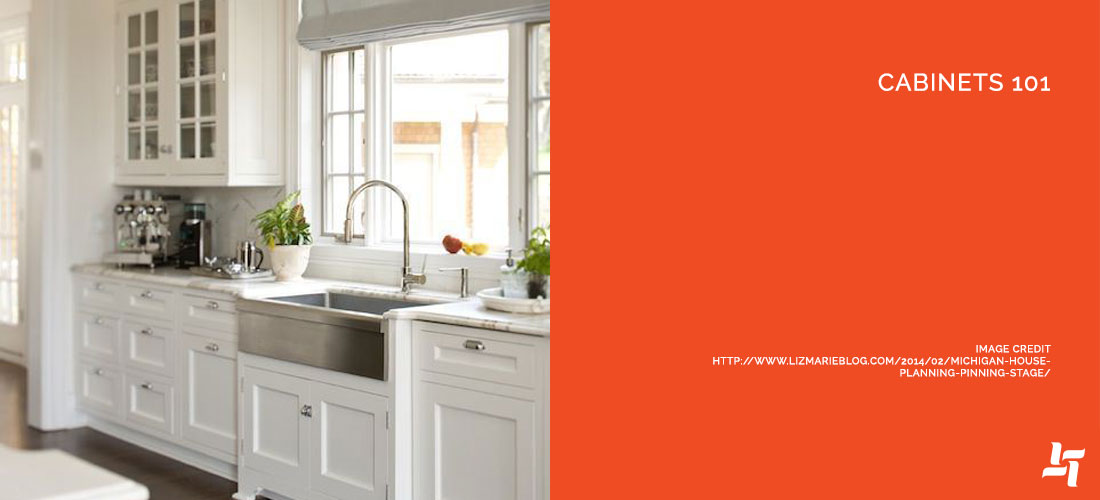 Louvered

Just like the shutters that work great as fabric-free window covers, louvered cabinets use horizontal slats to make up the door style. While this look might seem more traditional, with the right hardware they work great with industrial and modern styles, as well. Louvered cabinet doors are great for laundry rooms and other storage spaces that need ventilation, as the slats provide air circulation.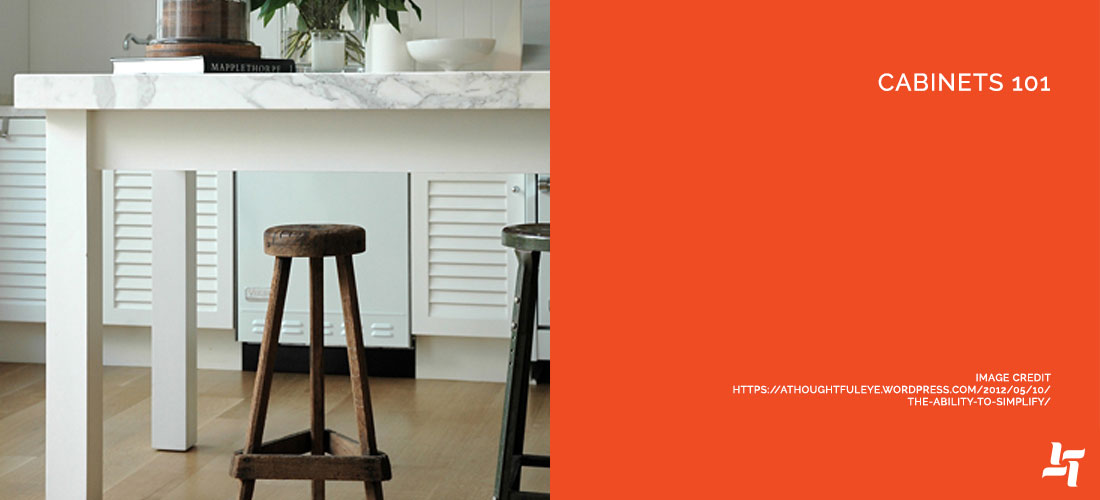 Flat

The most minimal and simple of design styles, and often budget-friendly, flat door styles forego any intricate details. With modern hardware, flat cabinet doors lend to modern, contemporary and industrial styles naturally.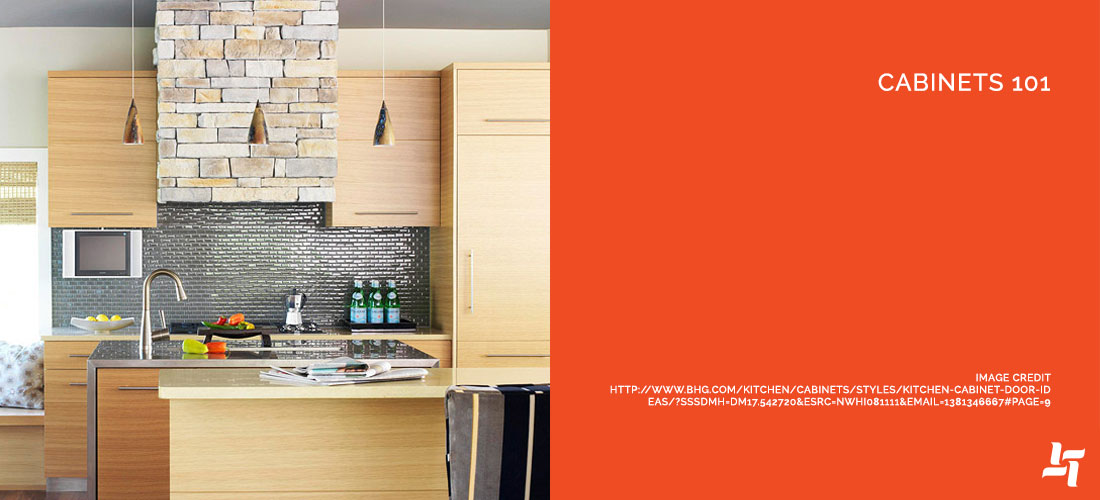 Distressed

The best part of distressed cabinets is that you can start with any style and then work to the level of weathered you're aiming for. Be warned though, tarnishing your cabinets will likely cost you more rather than less. This style is a wonderful match for antique, craftsman, farmhouse, and cottage style looks though. Paired with warm tones and colours, distressed cabinets are a beautiful feature piece for any room.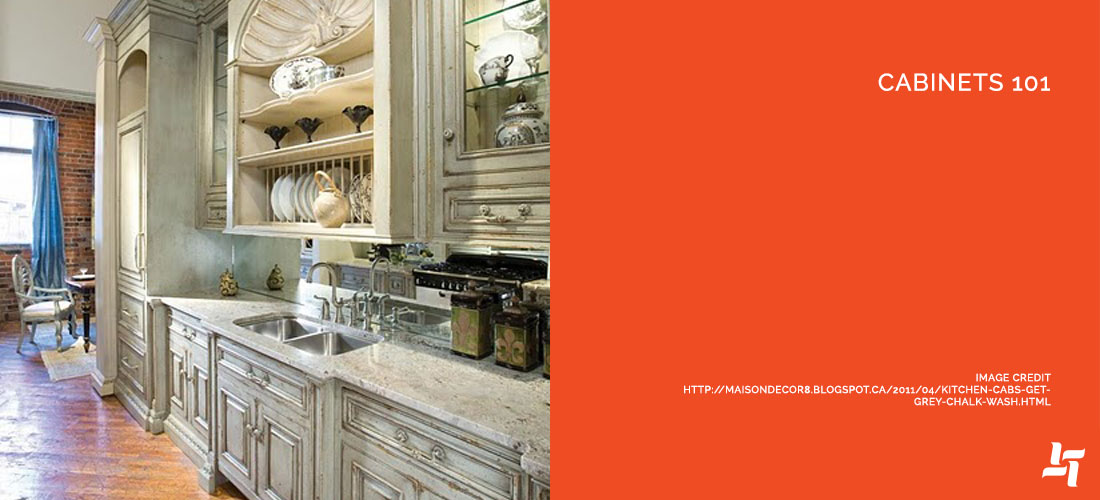 Beadboard

If you're aiming for a traditional, Hamptons, or cottage feel, beadboard cabinets are for you. This cabinet style is modeled after beadboard paneling, with vertical grooves lining the wood. Keep in mind though that these same grooves make for extra cleaning work.


Cabinet Wood Types

Like most of your options in a home renovation, there is no shortage of wood types to use for your cabinets. To achieve a look that truly encompasses your style, research and look into the less common wood types like alder, hickory or pecan.

A few of the most popular wood types in cabinetry these days are cherry, oak and maple, popular for their colours, grain and other

Cherry

Cherry is one of the softer woods used, which has its pros and cons. Its pliable nature makes it easier to cut and work with, but also easier to dent. Take a little more care with this type.

Cherry wood's greatest asset is its grain and colours. With smooth, subtle grains and warm, tones, this wood is a gorgeous choice. Cherry wood can be blonde, brown or red, so there are several options within this type as well.
Oak

A little tougher than cherry, oak is a real showpiece. The colours are incredibly rich, from reds to browns, but it's the grains that really set this wood type apart. Oak has distinct grooves, wormholes, knots, angles and lines that come about from the tree rings.
Maple

The hardest of the three woods, maple is popular for its uniformity. While it obviously ranges based on trees, stain and other factors, maple wood maintains a fairly consistent colour and grain throughout. This makes it ideal for those looking to avoid an overly rustic look that can come about after staining. Maple also has the advantage of being especially durable.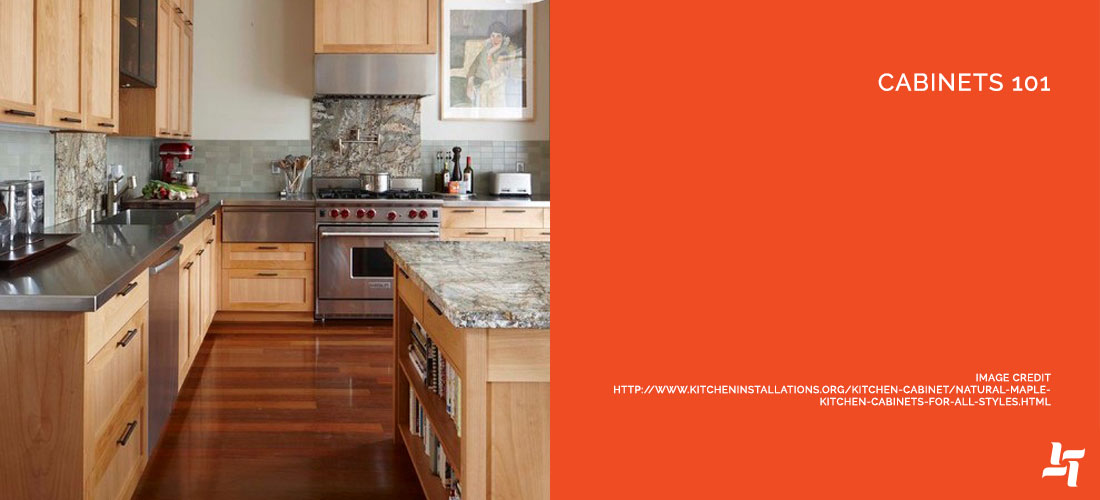 Get in touch with one of our designers to learn about the other cabinet woods and styles available to you in your next renovation.