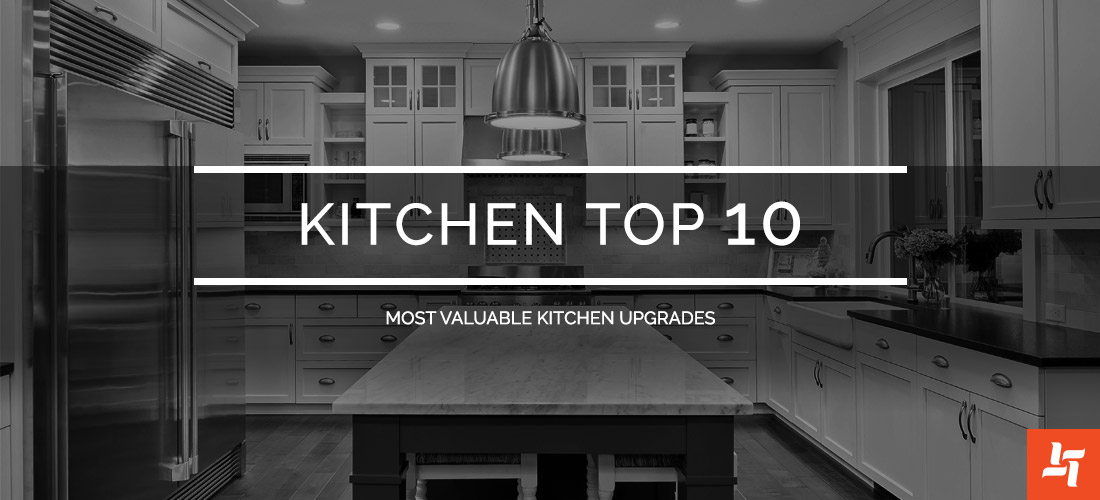 10 Most Valuable Kitchen Upgrades
The purpose of a kitchen renovation is to redesign for the homeowners' tastes and to add value to the home. Take a look at these 10 upgrades to bring your kitchen to the next level.
1. Heated Floors
One of the most popular renovation upgrades in any space of the home is in-floor heating. This feature is quickly becoming a must-have in any new kitchen. Early mornings and the cold Canadian winters are just a little more bearable when a cozy kitchen awaits you.
Heated floors are especially welcoming in a room where floors are usually stone or tile—materials that tend to run cold. This renovation upgrade is a huge sell with buyers, so it's guaranteed to add home value.
2. Two Sinks
Not just a double sink, but two. Once you've added a second sink to your home you will wonder how you ever managed without it. If you're prone to letting dishes soak in the sink for a period of time, you're not out of commission.
This feature also works great for dinner parties or having guests over; two people can work in the kitchen without getting in each other's way. Multiple sinks are often worked into kitchen renos by dedicating one for cooking and the other as part of a wet bar. Whatever the purpose, you would be surprised at how easy it is to put two kitchen sinks to good use.

3. High-Tech Faucets
Faucets are one of the most important selections of your kitchen remodel and there is a wealth of choices; not just colour or style, but function and material as well. While chrome and brush nickel have been the predominant trends of recent years, darker finishes such as wrought iron and bronze are becoming popular.

This is only scratching the surface of your options as faucets are becoming increasingly high-tech. Flexible nozzles are a bare minimum, but you can also choose faucets with hands-free technology, multiple pressure settings and water conservation options.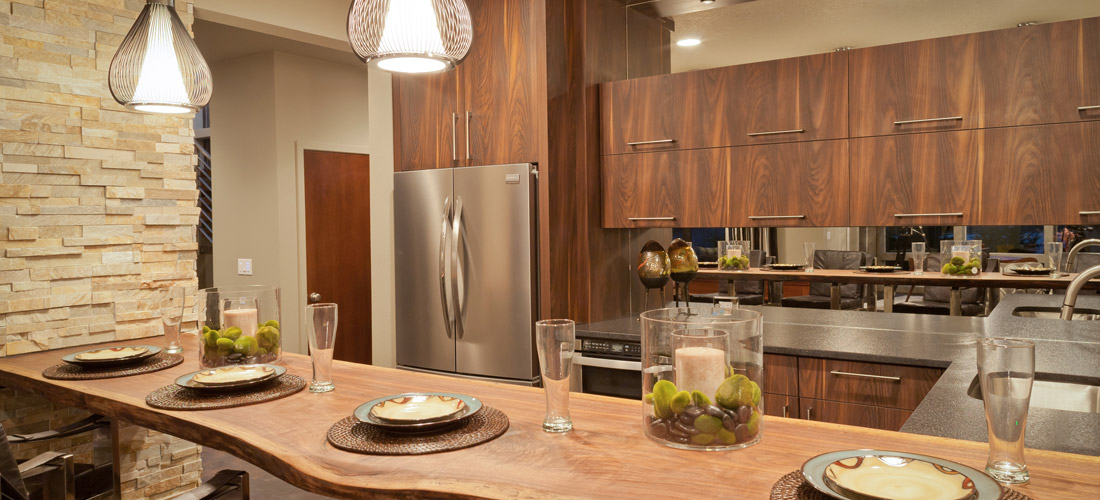 4. Extra Counter Space
One of the most common reasons for prompting a kitchen do-over is lack of counter space. This is always a good thing to focus on and a valuable asset in a renovated kitchen.

A redesign of cupboard and appliance layouts can dramatically increase your amount of counter space. There are several tricks for doing this, including installing portable cutting tables or adding a peninsula.

Potential buyers scoping out a new home will immediately notice a small kitchen, especially one with a limited work surface; this counts as a strike against your home's overall value. Adding as much useable counter space as possible is a sure-fire way to make your kitchen, and your entire home, a huge sell.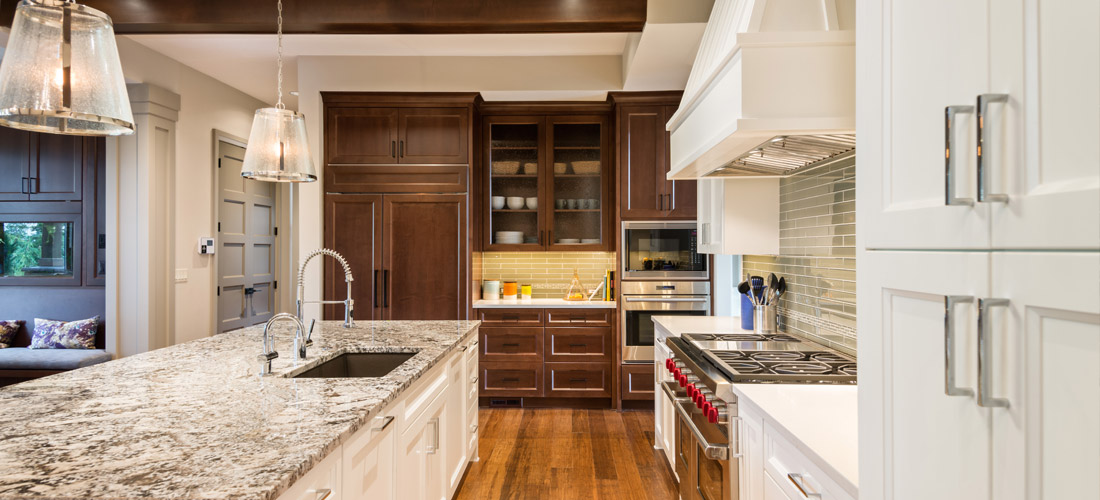 5. Kitchen Island
Kitchen islands are another great way to add workable surface space. Practicality-wise, kitchen islands are valuable in that they can almost double your counter space, while also providing additional storage. Depending on the size of your island, there is also opportunity for a more spread out arrangement of appliances like your dishwasher, a wine cooler or an extra stovetop.

Kitchen islands can be made to look like a piece of furniture by using richer colours, a contrasting countertop and baseboard moulding to dress up the unit. Also islands can give you the breakfast bar you always wanted or be utilized as your kitchen table.
6. Dedicated Custom Cabinetry
Optimizing the storage in your kitchen is a valuable feature for your renovation. Custom cabinetry and dedicated storage is a great way to fully utilize every inch of space. Consider adding drawers and cupboards made specifically for trash units, cutlery, pots and pans, cutting boards and spices.

Open shelving, an on the rise trend displaying plates and glasses, is something to think about too. It's an attention grabber and adds a modern, elegant feel to your kitchen.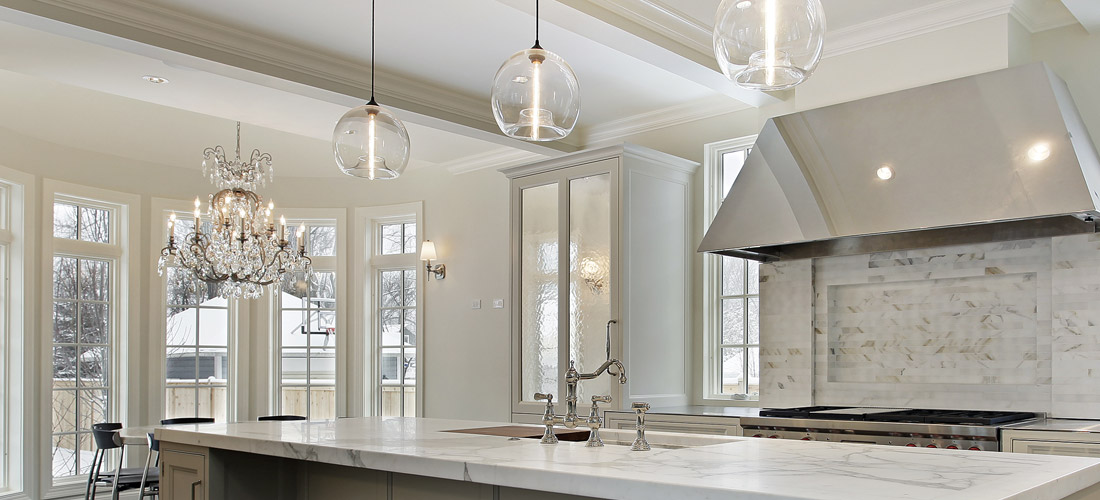 7. Lighting
Updating your lighting is a quick way to make a huge impact. Pot lights are a subtle way of bringing a great deal of light into a room without adding clutter. Combined with the growing shift towards LED lights, you can now add crisper and brighter light to your kitchen. This automatically provides a quick and clean makeover to any room.

Upgrading your light fixtures is an opportunity during your renovation to really determine the overall theme of the room. Modern, industrial, luxurious or traditional, chandeliers and hanging lights are where you can get creative. Changing out old lighting to newer pieces elevates the quality of your kitchen reno.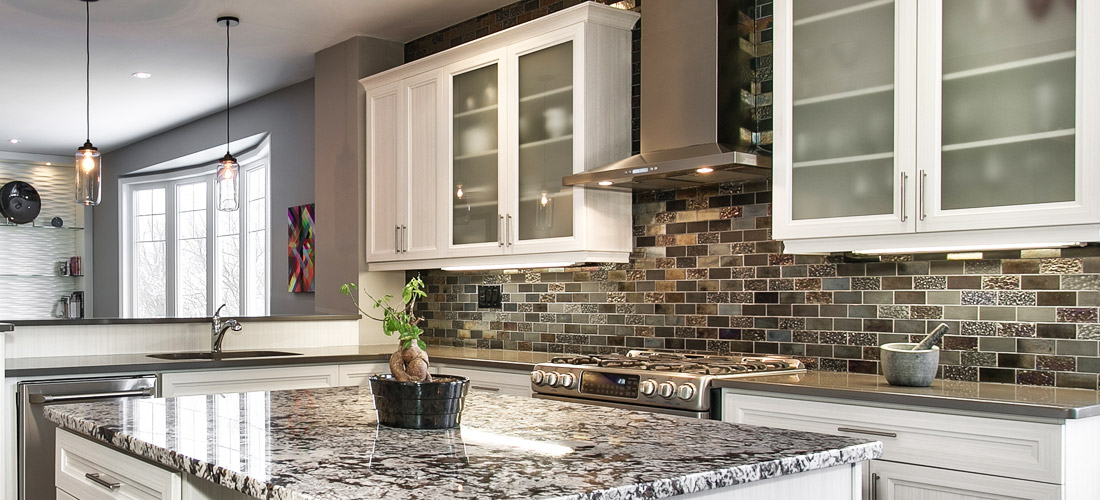 8. Backsplash
Backsplashes have become a necessary element in kitchens and they are a major visual accent. With several materials and styles to choose from, it is another element that can define your room's theme.

From stone to glass, mosaic to subway tile, there are several options at your disposal. Many older kitchens lack this newer trend, opting for painting every wall surface instead, and the effect is noticeable. Adding something as simple as white subway tile can have a huge impact. A well-matched backsplash can update your kitchen from dated to top of the line, and is a huge part of adding value during your renovation.
9. Upgraded Appliances
Go big or go home. Just as you can benefit hugely from two sinks, an extra oven is a huge positive for a kitchen renovation, as well. The oven is one of the hardest appliances to cook multiple dishes in and also happens to have the most time-sensitive dishes. An extra oven for baking your dessert, while preparing the main entrée simultaneously, is a big grab to potential homebuyers.

People are also starting to look towards commercial kitchen appliances to bring into their homes, for their superiority in quality and the quantity they can hold. Serious home cooks love the idea of having heavy-duty equipment and custom designs can fit them naturally in your home.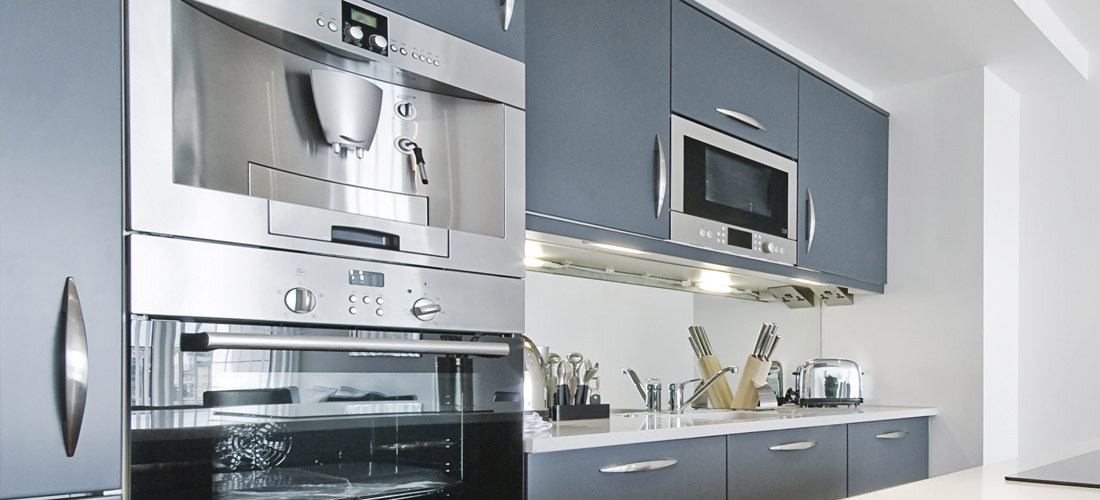 10. Built-In Amenities
Splurges like espresso and coffee makers, wine coolers and deep fryers, may seem like superficial add-ons but they actually can be a major selling point. Building them into the design and structure of your kitchen remodel saves counter space and adds serious credibility.

Function and looks are the main points in calculating the worth of any room. Updating your kitchen is one of the most efficient ways of dramatically increasing the value of your home. Consider these upgrade ideas to really bring out your kitchen's full potential. Talk with one of Karry's designers to find out what other upgrades you can include in your renovation.